PHOENIX
A Southwest Gem
By Clint Brownfield
Here's the perfect getaway escape for Spring: Greater Phoenix. In addition to this desert city, neighboring Mesa and Scottsdale also offer plenty to do in February and March. Add in spectacular blooming deserts, Major League Baseball spring training, warm sunny weather and you have one of America's best travel destinations.
The weather this time of year can't be beat—with average highs in the mid-70s and low humidity. The average elevations in the area are about 2,000 feet so you won't have to adjust to high altitudes. Phoenix enjoys around 295 sunny days each year. In fact, many visitors arrive here this time of the year simply to play golf on any number of the area's famed courses. Here, some definite must-do's to add to your list.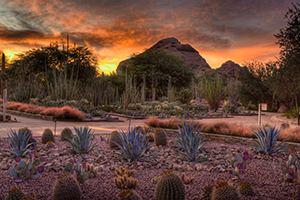 SEE & DO
Natural Wonder During this time of year the surrounding Sonoran Desert is in full bloom. A short drive outside the city is one of the most memorable sightseeing forays you will ever encounter—a definite bucket list item. To further expand your knowledge of what grows in an around Greater Phoenix, a trip to the city's 140-acre Desert Botanical Garden is a great place to do this. Be sure to check out their trails, tours, and other activities. Info: dbg.org.
Batter Up The 2019 MLB season officially gets underway March 20th. However, for fans that can't wait, a trip to Phoenix and environs will definitely provide a respite after a long winter of watching highlights on TV. Each spring, 15 MLB teams choose Greater Phoenix to get out the kinks during spring training. Tickets are affordable and attending an afternoon game is a great way to grab a hot dog or some Cracker Jacks. Being able to attend these games, in addition to Arizona Diamondbacks games during the regular season (in a domed stadium), just may be one of the reasons why Phoenix is one of the fastest growing cities in the nation. Info: cactusleague.com.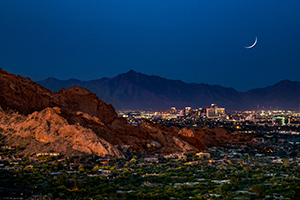 Cultural Pursuits A quick Internet search will immediately yield around 30 museums in the Greater Phoenix area. From the Heard Museum which specializes in exhibits illustrating Native cultures to, the Phoenix Art Museum offering works of fine art from around the nation and world, to the Musical Instrument Museum—there is something for everyone. These will especially come in handy on the off chance that a rainy day pops up. One area must-see in particular is Taliesin West, Frank Lloyd Wright's winter headquarters in Scottsdale. Visitors can take tours of this complex, a National Historic Landmark, and learn all about America's most famous 20th century architect. Info: franklloydwright.org/taliesin-west/.
The performing arts are also well represented in the Valley of the Sun. Ballet, symphony and shows on their way to and from Broadway give visitors plenty to savor in February and March. The Orpheum Theater will be hosting Silent Sundays, a classic silent film accompanied live on the Orpheum Theatre's Mighty Wurlitzer pipe organ, and the American Theater Guild's performance of Evita. Arizona Opera will perform the Pulitzer-Prize winning Silent Night. The Phoenix Symphony will be playing everything from Star Wars to Stravinsky and performing a Tom Petty tribute. Arizona Theater Company will perform August Wilson's Two Trains Running. Of special note, Ballet Arizona will be performing the world premiere of The Firebird Feb 14-17, with music by Stravinsky and choreography by Ib Andersen.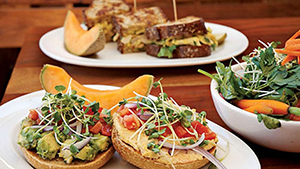 TASTY BITES
Just about anything grows in and around Phoenix these days, making it a must-visit foodie paradise. Whether you're fine dining or want to rustle up something delish in your home away from home, your taste buds will not be disappointed. Phoenix takes advantage of its fresh produce and local culinary offerings with great Farmer's Markets. You'll find them dotting the city during this glorious time of the year. You can get as healthy as you want with the local produce or maybe tuck into something a little more decadent at a local bakery or chocolatier.
Sip wine and enjoy a crepe while shopping at a market overseen by a James Beard Award-winning chef at Vincent's Saturday Market, get new ideas for your fresh local purchases during the weekly cooking demonstrations at the Phoenix Public Market, and avoid prep work but still get local fresh veggies by using the Veggie Valet at the Uptown Farmer's Market. If you don't want to cook, but still want to support local endeavors check out, Fellow Osteria, Barrio Cafe, and the newly re-launched Christopher Collins restaurants The Mackintosh and The Collins. For true foodies, you might want to time your visit around Devour Week (February 17th – 24th) and the main weekend event, the Devour Culinary Classic, named Best Southwestern Culinary Festival by The New York Times.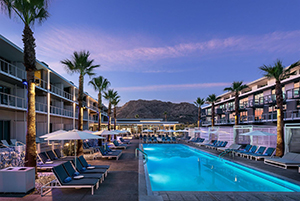 DESERT HAVENS
Needless to say, Greater Phoenix has an almost endless variety of places to stay, including some of the most spectacular resorts in the world, historic hotels and inns, and various ways to set up housekeeping during your stay. New hotels are popping up in Downtown Phoenix, including the recent openings of the AC Hotel Phoenix Biltmore and the Hampton Inn & Suites Phoenix Downtown. Phoenix is famous for its destination resorts, and the JW Marriott Phoenix Desert Ridge Resort & Spa, Mountain Shadows Resort, Arizona Grand Resorts, and Royal Palms Resort and Spa have all been recently renovated. If you want to stay in one of the best hotels in the US, Conde Nast Traveler readers recently tapped The Hermosa Inn as one of the top 10, making special note of the famous Lon's restaurant. With a trip in February or March, you can be one of the first to experience the Spa CIVANA in Carefree which opened late last year.
Getting to Phoenix has never been easier. Phoenix Sky Harbor International Airport is one of the busiest airports in the country—connecting to a multitude of gateway cities. Its record for on time departures and arrivals is one of the highest in the country.
So, what are you waiting for? Head on out to Greater Phoenix to get a much-deserved head start on spring 2019.
For more information on Greater Phoenix and more, go to visitphoenix.com.