POCONO MANOR RESORT AND SPA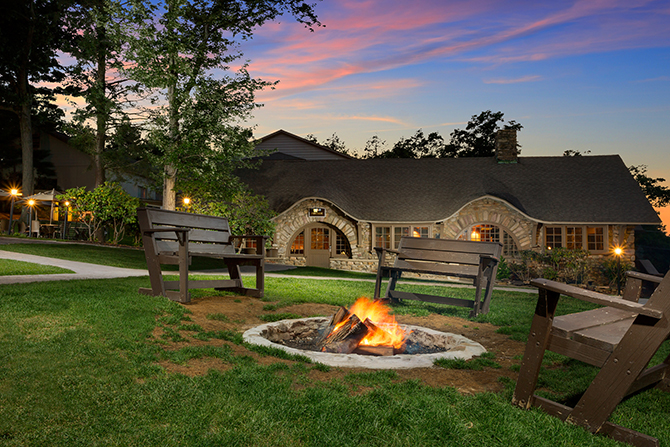 By Jeff and Stephanie Sylva
The Pocono Mountains in northeast Pennsylvania has seen resorts come and go for more than a century. One resort that has endured the test of time and continues to provide guests a multitude of year-round activities is the Pocono Manor Resort and Spa. This long history and a determined commitment to offering unlimited outdoor adventure in a spectacular natural setting are what set Pocono Manor Resort and Spa apart from other Pocono resorts.
It all began in January of 1902 in Philadelphia when a group of Quakers, envisioning a spot where they could relax from the routine of city life, purchased a tract of land on Little Pocono Mountain. Ideally this retreat would be in a beautiful natural setting, one conducive to the Quaker Spirit of Peacefulness. Construction of the Inn began in April and in August the first guests arrived. It wasn't until six years later that in another newly constructed building, even more guests arrived—and thus began the Manor's history as a year-round resort.
In September of 1966 the Inn was sold to Samuel Ireland, founder and owner of Ireland Coffee and Tea. Immediately Mr. Ireland began a refurbishment program, which the Ireland family continued over the next 38 years. The inn was then sold to a partnership led by a real estate company in 2005. In an effort to highlight the numerous recreational offerings, the current owners have re-branded the Inn as The Pocono Manor Resort & Spa. The resort, long known as "the Grand Lady of the Mountains," is listed on the National Registry of Historic Places and is a Registered Historic Landmark.
FAMILY FUN
Your chance to enjoy 3,000 acres of beautiful mountain terrain begins at Manor Sports, located next to the golf course club house.
With so many activities to choose from, your family can be busy all day. Mountain and recreational biking; fly, pond, and ice fishing; trapshooting; BB gun ranges; hiking trails; dog sledding; UTV tours; archery; snowmobiling and lots of other winters sport choices. The Ranch at Pocono Manor offers horseback trail rides and lessons, hayrides, a petting zoo, pony rides, and winter sleigh rides
Other recreational activities include indoor and outdoor pools, an arcade and game room, a family play room with billiard table and large-screen TV for movie nights. There is a fitness room with cardio and weight training equipment. For anyone looking for a more serious workout, resort guests have complimentary privileges at the Pocono Mountain Fitness Center, located one mile from the Inn.
During warmer months, golfers can enjoy the East course with rolling fairways and breathtaking views as well as challenging water hazards. The Pocono Manor Golf Club has a pro shop, practice greens, a driving range, the 19th Hole Restaurant and Bar and a Golf School led by a PGA instructor.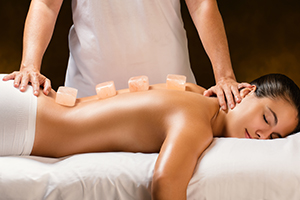 RELAX & UNWIND
The Manor has 240 rooms and suites, all decorated in keeping with the period style of this century-old hotel, yet with modern amenities. All rooms boast historic charm and a number of them have beautiful mountain views.
Dining at Pocono Manor means superb views at the Mountain View Dining Room. Serving full buffet breakfasts every morning and themed dinners on weekends during the year (every night from Memorial Day to Labor Day), the Dining room features upscale modern American Cuisine. Friday's theme is the Bountiful Seafood Buffet and Saturday's is the Prime Rib Feast. During the summer you will experience a different theme each night of the week.
For more casual dining The Lamplighter offers a light pub fare menu and a selection of craft beers on tap. A burger and a beer sound good? Try the Fireside Burger, outfitted with crisp fried onions, cheddar cheese, bacon, and sweet barbecue sauce and the house beer, the Grand Lady Amber Lager. Also, be sure to try one of the Signature Mac & Cheese selections.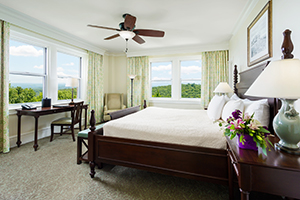 Of course, a visit to Pocono Manor Resort & Spa is not complete without a soothing, relaxing treatment at the Laurel Spa. The spa is a tranquil sanctuary featuring floors and walls of granite and limestone highlighted by soothing color schemes. The nine therapy rooms offer a full line of therapy services. A special feature is the Spa's Salt Cave, comprised of hundreds of pounds of Himalayan pink salt offering the benefits of Halotherapy. Salt's natural anti-bacterial, anti-inflammatory, anti-fungal properties are beneficial for overall health and wellness particularly for respiratory and skin ailments.
Pocono Manor Resort and Spa's acres of scenic natural beauty offering lots of fun and adventure are just 90 miles from New York City. A wide variety of seasonal packages are available. Some of the more popular packages include Ski & Stay, Spiritual Wellness, Just the Two of Us and the Himalayan Spa Retreat. The resort is also within easy access of The Jack Frost Big Boulder, Camelback, and Shawnee ski areas as well as Pocono Raceway, Pocono Whitewater, Pocono Paintball Skirmish, and the Mount Airy Casino.
For more information on Pocono Manor Resort and Spa, visit poconomanor.com.