ROYAL CARIBBEAN CRUISES
A Perfect Family Getaway With Teens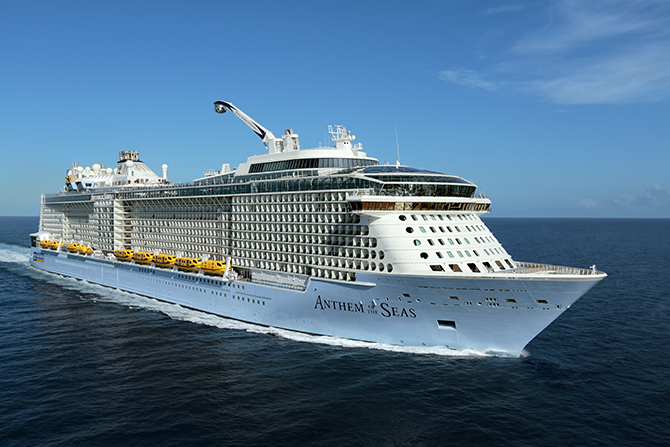 By Stacey Zable
Royal Caribbean's Anthem of the Seas is an ideal fit for families with teens with plenty to keep the young guests busy! Plus, with the ship home porting 12 months of the year out of Cape Liberty in Bayonne, N.J., local families not only have the convenience of sailing out of their own backyard but get to save by not having to purchase airfare.
The ship also offers comfortable balcony staterooms that fit a family of four, with teens sharing a sofa bed. Despite being a large ship with 4,900-plus guests, Anthem of the Seas is easy to navigate and discover multiple areas of family-focused fun. Here is all that your teen will find fabulous aboard Anthem of the Seas.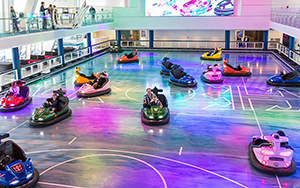 ACTION-PACKED FUN
"The largest indoor active space at sea," according to Royal Caribbean, SeaPlex is a sporting and entertainment complex that is constantly transforming to offer guests a myriad of action-packed activities. SeaPlex's design features large windows to bring in natural sunlight, making it a bright and interactive space.
The main expansive area alternates as a site for bumper cars, flying trapeze, roller skating, full-size regulation basketball court, and team sports including soccer, depending on the time and day. Teen times are set aside for dedicated team sports so that kids are playing against others their age. The mezzanine features SeaPod Activity Rooms where you can play table tennis, air hockey, foosball (my family's favorite) and other interactive games. There is also a live gaming suite with Xbox. The SeaPlex Dog House serving up hot dogs and more is set inside for those who get hungry while challenging each other in sports. Outside and adjacent to SeaPlex is the Rock Climbing Wall for additional teen and family thrills.
JUST FOR TEENS
Teens are divided into two age groups: 12 to 14 and 15 to 17. They have a dedicated space called The Living Room located right next to the Windjammer Marketplace buffet on Deck 14. It's a comfortable room with such nice touches as double lounges with individual televisions, a foosball table, and other clustered seating. Programmed activities include sports tournaments, parties, scavenger hunts, movie nights, and games. There is a 1 am curfew for cruisers under 18 (except for those participating in the teen programming).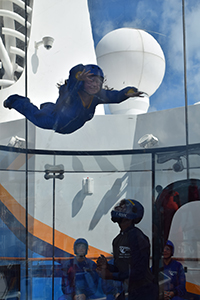 FLYING HIGH
The entire family will enjoy the innovative and complimentary RipCord by iFLY sky-diving experience that literally has you "flying" like a super hero in the controlled, simulated environment of a 23-foot tall glass flight chamber with an instructor next to you at all times. The adventure begins with a training session that includes an overview video where you are taught correct flight positions and hand signals. You then don flight gear, including a jumpsuit, goggles and helmet before heading for your individual turn in the flight chamber. Make sure to dedicate one member of the family as the official photographer to catch the moments in flight in still photos and video.
Another way to "fly" on the ship is the complimentary North Star glass observation capsule. It rises 300 feet in the air and rotates upwards and over the sides of the ship offering 360-degree views and plenty of photo opportunities for the up to 14 guests inside.
SURF THE WAVES
First time and experienced surfers will want to try out the complimentary 40-foot-long FlowRider surf simulator for both traditional surfing and/or boogie boarding. The instructor will stay by your side if you want, slowly guiding you on the do's and don'ts of the experience. This is the way to go as the water comes in at a high speed. There are special session times for teens and adults.
POOLS
With two outdoor pools and two indoor pools plus four whirlpools, Anthem of the Seas offers plenty of fun in the water beyond FlowRider. The Solarium is a dedicated indoor pool area for those 16 and over that will make older teens feel very grown-up.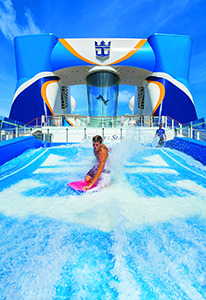 LET US ENTERTAIN YOU
Whether in the Music Hall, on the pool deck, or in one of the ship's lounges, the band The Royal Swedes was among the entertainment that rocked the house with audience members of all ages singing along and dancing to their classic tunes. Among the productions onboard, the rock musical We Will Rock You features a score with many of Queen's legendary top hits including, of course, the show's namesake. For those teens who are music lovers, the daily Music Trivia is a great activity for the whole family.
DINING PLEASURES
Whether teens decide to branch off and meet new friends or spend time with mom and dad, dinner is the one time each day the entire family can come together. Anthem of the Seas certainly offers an abundance of choices for all tastes. It has four complimentary main dining rooms, plus a fifth for suite guests, as well as the expansive Windjammer Marketplace buffet. Complimentary casual options include The Café @Two70 for hot-pressed sandwiches, salads, soups and more; the Solarium Bistro; and Sorrento's Pizzeria open until 3 am. The ship boasts six specialty dining restaurants plus three snack places for an additional fee.
HIGH TECH
Teens would be at a loss without their phones, and with Anthem of the Seas' VOOM connectivity they can post every exciting element of the ship on Instagram and Snapchat. It also helps parents to be able to use WhatsApp, Viber or Facebook Messenger to communicate with their teens.
For more information on Royal Caribbean Cruises, visit royalcaribbean.com.