BAGELS AND BROADWAY'S
VALERIE SMALDONE
From The Heart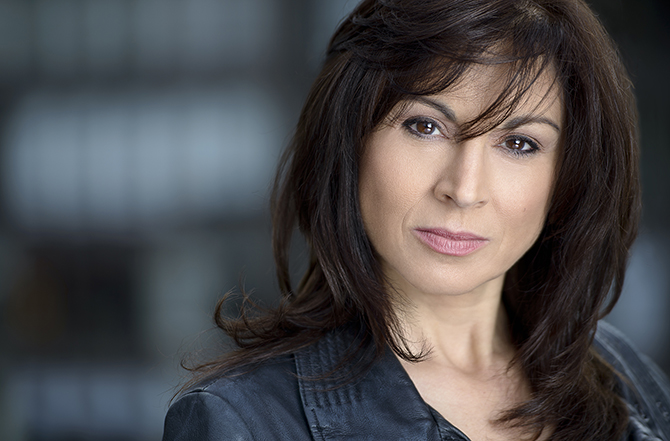 By Griffin Miller
SETTING: Le Pain Quotidien, Second Avenue, Midtown.
TIME: Just after noon on a cold January day.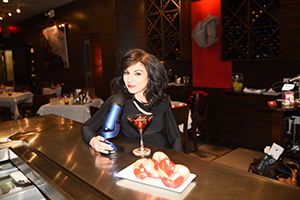 ©AnnieWatt.com
CHARACTERS: Five-time Billboard Magazine Award winner (#1 on-air position in the New York radio market), media personality, celebrity interviewer, host, producer, voice-over artist, Voice of God announcer, actress, teacher, coach, foodie, footwear connoisseur, cancer thriver, writer, Valerie Smaldone; Me.
ENTER: Valerie Smaldone, the picture of New York savvy from her long dark hair to her fringed suede booties. She spots me in the back and, with minimal prologue, we've launched into a dialogue, recorded by my battered iPhone—a humble substitute for the audio equipment Smaldone has been accustomed to working with since college.
The following tracks our meeting. I would mention that Smaldone thinks she's "…a terrible interviewee" because she's "so interested in being an interviewer." She is wrong! While she may be on the outskirts of her comfort zone, she's magnetic on the other side of the mic.
THE EARLY YEARS
Most people—especially New Yorkers—seem to identify you through your radio work. How did this aspect of your career come about?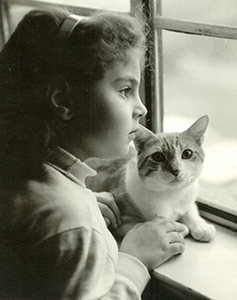 Valerie and her first cat, Rusty
©Artone Photography/Anthony Smaldone
"When I was 17, I went to Fordham University in the Bronx—they had a student-run 50 thousand-watt radio station at the time (now it's a Public Radio affiliate) and I just walked in and I asked how does this work?" she told us. "What do I do? How do I become a part of this? So, I auditioned for what was known as the Announcer's Workshop and they said, okay, you're in. I was taught by other students and went on the radio. It was on-the-job training."
Did you always know radio was what you wanted to do?
"I knew I wanted to be in entertainment. I really wanted to be in theater. Since I was at Fordham, I immediately joined their theater organization, The Mimes and Mummers. My freshman year," Smaldone remembered, "I was cast in a starring role in Play It Again Sam. As a Gemini, I've had these two tracks: Theater-Radio. Plus, I was a journalism major."
On radio, on television, and in live settings you've interviewed everyone from Paul McCartney and Elton John to Eartha Kitt and Mariah Carey—hundreds of celebrities. Out of all of them, do you have a favorite?
"Greg Louganis [the Olympic diver] for a private event. During the interview he was charming and open and at the end I asked him, 'Greg, knowing who you are today what would you say to yourself at 14?' He goes into his pocket and takes out a letter he actually did write to himself that he carries around and read it to the audience. It was so perfect I couldn't have scripted it. Everybody was crying. When you end an interview on that emotional level, it's a very satisfying thing."
FAMILY
"Everything I wanted to do was performance-based. My father, who was a photographer and loved opera, was a big influence on my life. But he wanted me to stay away from theater—he didn't think it would pay off. He did gear me towards radio because he was a radio fan. I remember," she said thoughtfully, "he took me to this Italian restaurant in Queens, the Broadcasters Inn. It was this restaurant with a radio station in the round in the middle of it, with this poor shnook spinning records, while everybody else was eating pasta and staring at him! My father thought I should do that. And I thought okay, it's entertainment, I guess…Who knew what it would lead to?
"My mother was a French teacher, and back when I was a kid, one of the only mothers I knew in my class who was a working mom. She was responsible for providing us with the sense that we could do anything we wanted to do, as long as we worked for it. When I refused to go to kindergarten, my mother allowed me to sit out that year, but she taught me how to read at a very young age. I believe my ability to pick up copy easily and read it cold is because of my early reading skills. Both parents made sure to expose us to the arts, and I credit them for my love of theater because of that."
Is your family close?
"Yes. My sister is a Yale-educated oncologist who went into pharma research, and is now involved with medically-based businesses. So, when I was diagnosed with ovarian cancer she was my first call. Eventually I was told I had to have a certain chemotherapy, which I didn't want. My sister, a senior VP of Medical Affairs at Bristol Meyers at the time, told me the drug I was slated to take was one she worked on and defended in front of the FDA. She also reassured me that I would be fine."
Recruited as a spokesperson for early detection, Valerie "came out of the closet" as a cancer patient on national TV—on 9/11. "That put my cancer diagnosis in great perspective, knowing that I had a chance, unlike the victims of 9/11. And that really became the hallmark of my speeches when I continued to talk about my experience—about living your life, no matter what."

VALERIE'S VALENTINE MEMORY
Valerie admits to being a sucker for what she calls the cheesy holidays: Halloween, New Year's, and Valentine's Day. "The pink rose, the romance—I love the whole thing," she says, pointing out that her name is a derivation of the word Valentine. "I always say Happy Valerie-entine's Day," she admits, going on to recall the Valentine's Day that came with a surprise reveal. And it had nothing to do with Tiffany or Godiva or Jimmy Choo.
"Some years ago, Rick, my partner of 20 years (I call him my husband), drives us to this somewhat deserted neighborhood and onto a rickety street downtown," Smaldone says. "He opens the door to this restaurant located there, and it's this fabulous place, Il Buco—all rough-hewn wood and really interesting hand-made chandeliers and the food was phenomenal. I loved it! Mostly because I had such a warm feeling because he found it and surprised me. Now, of course, that neighborhood is the coolest part of town! I guess he knew."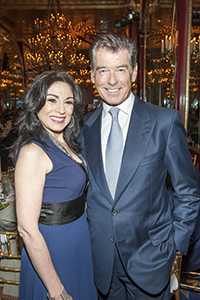 Valerie and Pierce Brosnan at Chemotherapy Foundation Gala ©Joseph Sinnott
VALERIE TODAY
Moving on to Valerie's current ventures—staggering to most, but to a woman used to taking control of her multi-faceted career, clearly not so much. Having walked away from her regular New York radio stint in 2008 ("I knew there was much more for me to do in the world"), she has upped the ante on her acting career, appearing in the TV series The Following, Blue Bloods, and Manifest, and narrating the episodic true-crime series, Fatal Encounters, on Investigation Discovery. She is also a frequent host on PBS programs, and can be seen as guest reporter on ABC for the Columbus Citizens Foundation's Columbus Day Parade.
She also founded Valerie Smaldone Media Worldwide, LLC. "There are three elements to my company," she says. "One-third is talent based: my voiceovers, live event hosting, Voice of God live announcing and acting. The second is coaching and teaching voiceover, presentation, interviewing and media skills. The third part is strategic consulting, where I work with brands and individuals on their media penetration and help them get their brand, product or service noticed in front of a wider audience." (Currently Valerie works with the German-based international hospitality brand, Healing Hotels of the World, and will be hosting their annual HEALING SUMMIT in Portugal this Spring.)
Valerie is also an adjunct instructor at the prestigious School of Visual Arts, where she teaches courses in voiceover acting and the art of interviewing, and (fun fact) is the voice on their phone system.
There's more, of course, since Smaldone's many hats could fill a millinery boutique, but her current labor of love springs from her new (less than a year-old) radio show that embraces her two greatest passions of theater and food: Bagels and Broadway (Saturdays, 9 to 10 am on AM970, online, and also available on Alexa and podcast). It's Smaldone's return to a regular host/producer position in the New York radio market for the first time in ten years.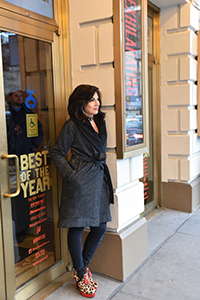 ©AnnieWatt.com
Tell us more about Bagels and Broadway.
"The show primarily focuses on theater and food, but sometimes we talk about other lifestyle topics like travel and music. In theater interviews, rather than concentrating on celebrities, I like to talk to the people behind the scenes, from producers to creators. All the uniqueness that is coming up now is very exciting," she quickly said, "so I try to focus on new and innovative theatrical content. And I also weave in something I call Broadway Bulletin, a little feature or news brief about what's happening in the theater around town."
At the moment, are there any shows you're especially drawn to?
"I've found this season to be spectacular for non-musicals—beyond amazing. Network was fabulous, I really enjoyed the multi-media aspects. I also love Come From Away and its message. And, of course, Wicked. In fact, in December on Bagels and Broadway, I produced a one-hour special celebrating their 15th anniversary on Broadway. That was a feat because I had to weave 11 interviews into one hour, but I loved doing it. When you love what you do and you have that satisfaction at the end of the day… it's priceless, right?"
Moving on to the "Bagel" aspect of Bagels and Broadway…
"In the food portion of the show, I talk about where I eat, any new thing that I enjoyed. My latest meal or glass of wine. And like Broadway Bulletin, I produce Food Bytes that covers things like closings, openings, new pop-up bars, unusual food establishments, and so on."
Do you have any favorite New York restaurants?
Smaldone thought a moment, then told us: "I have this thing about going to restaurants. I really expect to have a great experience when I walk in the door and I'm usually disappointed. But I have two go-to places. Etcetera Etcetera on West 44th is one. It's like Cheers! where you know everybody. A lot of the theater community frequents the restaurant— but it's not about celebrity. It's about people being embraced by the staff and the owner, the charming Daniele. And the food is great. Everything about it is right. The second is Tony's Di Napoli on the Upper East Side and in Times Square, where my portrait hangs on the wall—so I love going there. And again, the food and staff are excellent and the place is lively with super positive vibes." Other not-to-be-missed favorites include Morso on 59th for its super attractive outdoor dining in warmer weather, Il Falco in Long Island City, Enzo's of Williamsbridge, and Pasta, Pasta in the Bronx because "it was the go-to place for my parents."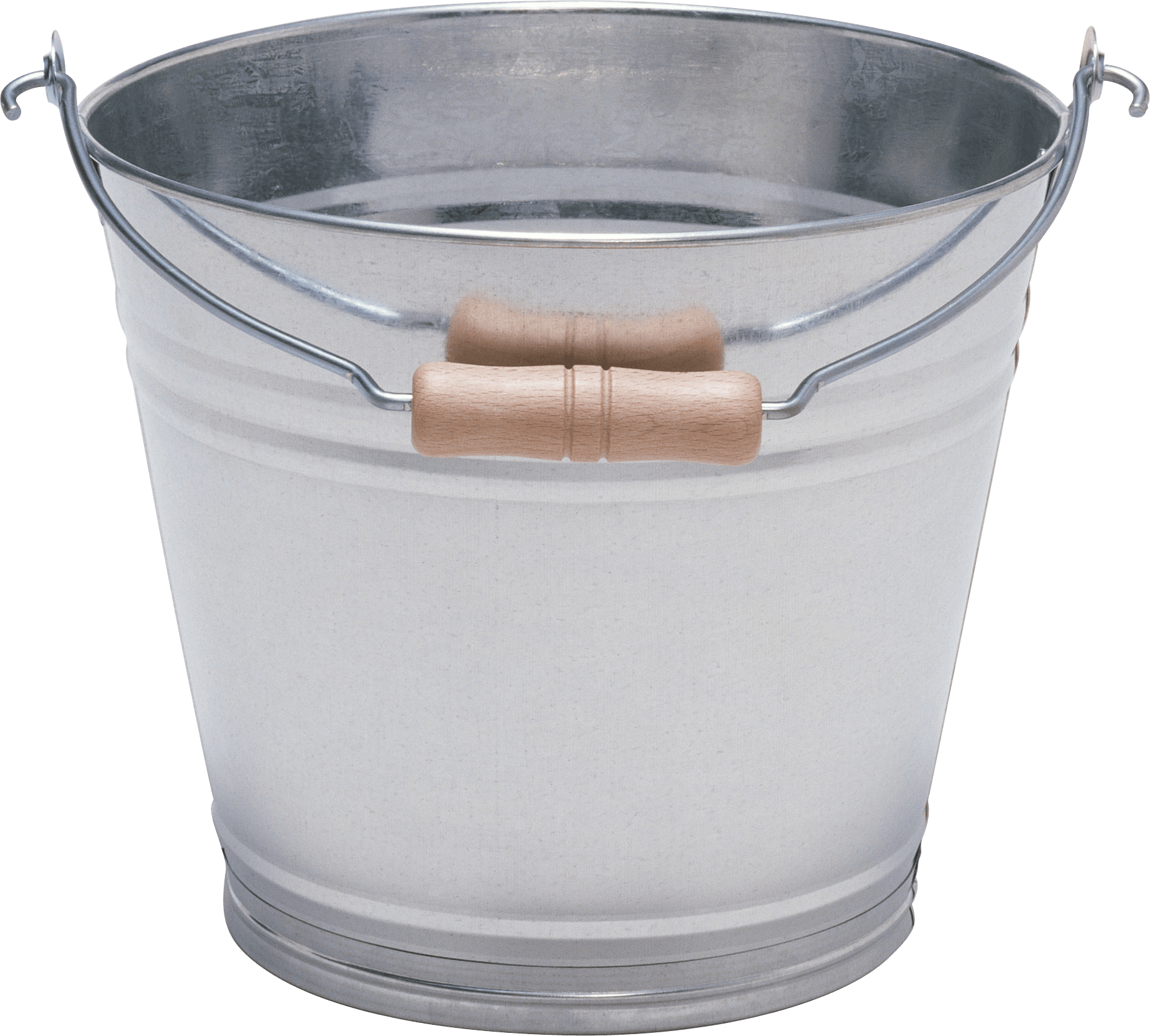 THE VALERIE SMALDONE BUCKET LIST
• Voice an animated character
• Take hip-hop dance classes
• Learn how to sing and have a big "coming out" party where I do a nightclub act
• Improve and properly learn Italian, as well as German and Spanish
• Get to use my French more often
• Travel to Argentina, Greece, and Sicily
• Do a Voice of God* gig for a major awards ceremony ("I do a lot of Voice of God work, which I truly enjoy, but have not done anything like the Oscars—yet!)
*Voice of God refers to any unseen voice at a live event venue, generally used for speaker introductions.
VALERIE'S STYLE
While Bagels and Broadway homes in on two passions, I would suggest she might want to amend the title at some point to include her third passion: shoes. Glam heels and boots of all shapes and sizes, to be exact. In fact, when asked to describe herself she said: "A kid from the Bronx who had some really great opportunities and is still looking to find the perfect pair of shoes." I'm thinking Bagels, Broadway & Booties.
What was the pair that got away?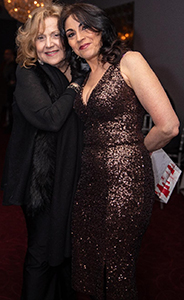 Valerie and her friend, actress Brenda Vaccaro ©Matt Madonna
"Ah! It was in a secondhand shop in Cologne, Germany that carries really beautiful, quality items. They were blue Manolo Blahniks—I love blue shoes—and had this sexy appeal, but even at a thrift shop, very expensive. And I just couldn't pull the trigger… I couldn't do it. Stop the madness. But I dream of them to this day."
THE BOOM GOES ON
Spending time with Valerie, you understand how her personality, intelligence and openness comes across to the people she interviews and why she is able to get great interviews, even from the most reticent individuals. It's a gift she has cultivated and shared, even with the knowledge that her chosen field is one that can, as she puts it, "…chew you up and spit you out, and it happens in a nanosecond.The funny thing is, about five years ago, I said I want to be on the cover of a magazine. And at the time I envisioned publications like Fast Company or Inc. or Entrepreneur… as a business person. But this is even better because it's New York Lifestyles in the city I love and live in. I mean, who would have thought that that kid from the Bronx, with no help, no contacts, would be doing everything she dreamed of. But it happened. Working in the Broadway community. Boom. Trying out new restaurants and cuisines. Boom. Working in TV, radio, acting…"
The boom goes on.
WITH SPECIAL THANKS
Etcetera Etcetera Restaurant, 352 West 44th Street, NYC "Fermare II Traffico"shoes by Vincent Tropepe Fashions Hair and Makeup by Maira Ortiz Heart-shaped bagels from The Bagel Nook, Freehold, NJ