ENTREPRENEUR'S CORNER
Jennifer Fisherman-Ruff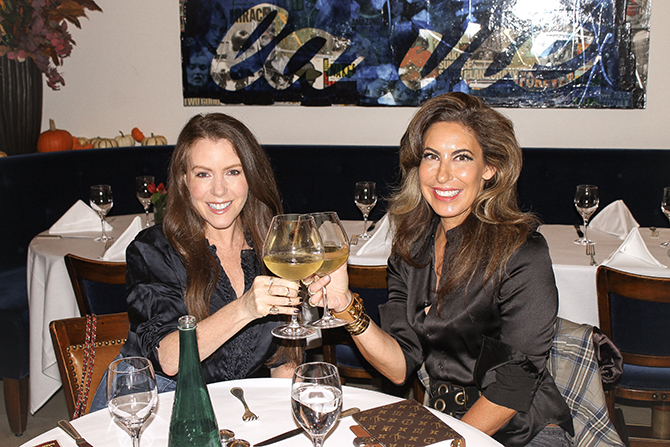 By Bailey Beckett
It's noon on a blustery New York Monday and things are bustling at the Upper East Side hotspot Le Bilboquet. The French brasserie is a virtual who's who of Manhattan's elite, where status translates to seating. And front and center is Jennifer Fisherman-Ruff, the city's most prominent beauty, health and wellness publicist. A longtime staple at the restaurant, Ruff (or Jenny, as her friends and colleagues know her) sits comfortably at her prime table, casually observing the revolving door of patrons with a warm smile and genuine waves.
She seems to know everyone there, and they know her. "She looks like a walking ad for the most coveted designers," says Gwen Flamberg, beauty director for US Weekly. "She's dripping in jewelry, her hair is always perfect, but she is truly the most authentic person I know. And she's super connected—she always knows who the next beauty star will be." Probably because she had a hand in making them.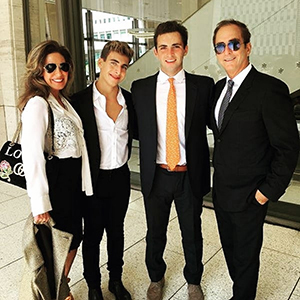 HARD WORK PAYS OFF
With nearly 25 years of experience under her Saint Laurent belt, her firm, Ruff Communications, represents many of the most prestigious cosmetic surgeons, dermatologists, nutritionists and skin and beauty brands. Her contacts run long and deep, as does her reputation. And her mantra: kill them with kindness. "You should be nice to everyone," she says, "and most of the time people are nice back. And if they're not, you keep going. I'm lucky I happen to like all the people I work with and consider them personal friends."
Ruff earned her Hermès the good old-fashioned way—hard work and persistence. After graduating from Syracuse University, she got her start in fashion, once being paid in free clothes by a fashion designer. She then segued into health and wellness after working with Equinox, where she filled in for a PR executive who went on vacation. The boss was so impressed upon her return she hired her to promote several of the brand's special features, like its spa, as well as handle celebrity relations. They also let her start her business out of the company as long as she didn't work with its competitors (Ruff is often credited with helping grow Equinox from one Upper West Side location into a global brand).
GLITZ & GLAMOUR
The arrangement helped launch her eponymous firm, and it was about to get bigger. A previous collaboration with Evelyn Lauder's Breast Cancer Research Foundation put her on the radar with one of its top executives, who was also dazzled with her smarts and know-how. Having just purchased MAC Cosmetics, the Estee Lauder Company was looking for someone to better integrate its products into the world of celebrity glamour.
They had the perfect person in mind. "What they had me do [which you can't do anymore] was befriend all the sittings editors at the top magazines who were in charge of the photo shoots," says Ruff. "They would tell me which celebrities were being shot, and I'd create a huge bag of product and send it to the set as a gift from MAC. After that, we were able to say which celebrities liked and used their products. That was the beginning of the celebrity endorsement trend." Ruff then turned her attention to people working within the fashion community, offering full makeovers with top stylists, providing they only used MAC products. Within a few months she'd gotten the brand backstage at many of the biggest shows during Fashion Week, including Oscar de la Renta and Carolina Herrera.
Those two accounts soon put her on the map, and she soon became the go-to publicist for all the top beauty and lifestyle clients. Her youthful spirit and stylish wardrobe (Rag & Bone jeans, Belstaff jacket, Givenchy handbag, Prada shoes, and wonder woman-sized Hermès bracelet for each wrist) belie her years of hard-won experience. She's seen and done it all and knows the fundamental principles of public relations still hold true. "I still believe in getting on the phone. I don't take no for an answer," she says. "If you can't reach someone by email, there's absolutely nothing wrong with picking up the phone. That's what I've taught my assistants over the years."
She also says you have to immerse yourself in what you are selling, and like it. "You really have to live the life of the clients you are working with to truly understand it," Ruff says, who is also a regular presence at Fred's, the 9th floor restaurant at Barneys on Madison Avenue. "I would never take a client who has nothing to do with my lifestyle. You need to love it and be passionate about it."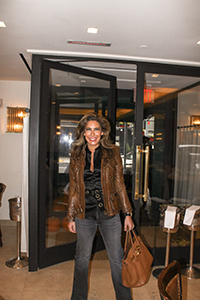 A GREAT STORYTELLER
"Jenny is the publicist who gets her clients pieces in the New York Times—massive important profiles," says Flamberg. "It's not just about pushing product, she's a great storyteller." She is just as well known for being a great lunch date. "She is so much fun," beams 360bespoke founder, Jeremy Murphy, who worked with Ruff when he was a top editor at CBS. "A lunch at Le Bilboquet can go for a couple of hours, and then you leave with so much to write about. She's talked about her clients, but in a very smart way. She hears what you are looking for and fills in the blanks." Echoes Kristin Perrotta, an expert in beauty editorial and former top editor at Allure. "I've been working with Jenny for close to 25 years and have always valued her perspective on how her clients are really bringing something new and different to the table," says Perrotta. "She has a history of working with quality people."
Her repertoire today includes Luminess Cosmetics and SETZ, skincare brand OMI Skin Nutrition, dermatologist Dr. Dendy Engelman, celebrity esthetician Shani Darden, cannabis holistic practitioner Brooke Alpert and new Body Kitchen collagen powders, among several others. In addition to her expertise in beauty and wellness, Ruff has also developed a rare expertise in working with doctors in promoting more aggressive treatments.
"That's what sets us apart," says Ruff, who is eager to credit her colleague Carrieanne Reichardt in managing her company. "We understand the medical side of beauty—working with the surgeons and dermatologists" who are equally effusive with praise. "Jenny is one of the absolute best in the business for media exposure," says Engelman, one of the top dermatologists in the US. "Having worked in the beauty PR realm for over 20 years, she knows the industry inside and out."
SETTING A STANDARD
Ruff is known for giving sage, straightforward advice, sometimes to her own detriment. "I've been called way to honest," Ruff says, noting that if a client's products don't meet a certain standard, or her ability to promote them, she will pass. For example, a cosmetic surgeon must have patients willing to pose online, in print and on video. "If you don't have people willing to be used in media for the before and after, you are going to lose a lot of stories," she says, noting she once arranged Allure magazine to shoot a young woman who had rhinoplasty surgery throughout the three-month process, from consultation to day of surgery, on through recovery. Ruff arranged the whole package, which resulted in a multi-page feature for her client.
Among other no-no's? Beauty brands with not-so-beautiful packaging. "The products have to be photographed, and if a magazine art director doesn't think it can be shot well, they're not going to shoot at all," she says. And for skin care lines, the ingredients should be evaluated and endorsed by third-parties like the Environmental Working Group, which is a non-profit that rates products based on ingredients. "They don't have to be natural or organic, but you do want them free of paraben (preservatives used to prolong shelf-life) and sulfates," Ruff advises.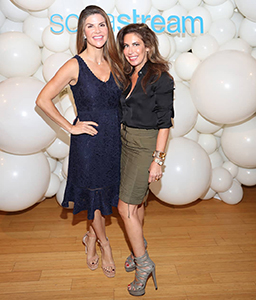 Easy to follow rules, but not everyone plays ball. "In that case, I'm happy to refer them to someone else," Ruff says. "I would rather let a client go than take their money and know that it's not going to work out." But it usually does.
THE NEXT GENERATION
Nipping at her heels, ironically, is her own son David, who is an influencer himself, with 110,000 followers on Instagram (@davidevanruff). He posts about his favorite designers, products, looks and gives a bird's-eye-view to the fabulous life he's created at just 16. "He's even better friends with a lot of the younger editors than I am!" says the proud mother, who has raised him and his twin brother Harrison on the Upper East Side with her husband Michael.
"I get my work ethic from my mother," says David, who balances school and studying with a burgeoning life on the front row. "Ever since starting my blog, I have learned her tricks and tips on networking with potential clients. There isn't a day that goes by that I don't see how she's become the hardworking and successful woman she is today, but she's always taught me you should be nice about everything. Her priority in life is to be a kind person and to set that example for my brother and me." He's learned a bit more, too. "She still can't get over the time I called Fred's and asked to speak to the manager and told them that I was her son in order to get a last-minute brunch table while she was in Turks and Caicos."
Like mother, like son.