SWING BY GRAND CENTRAL
J.P. Morgan Tournament of Champions Returns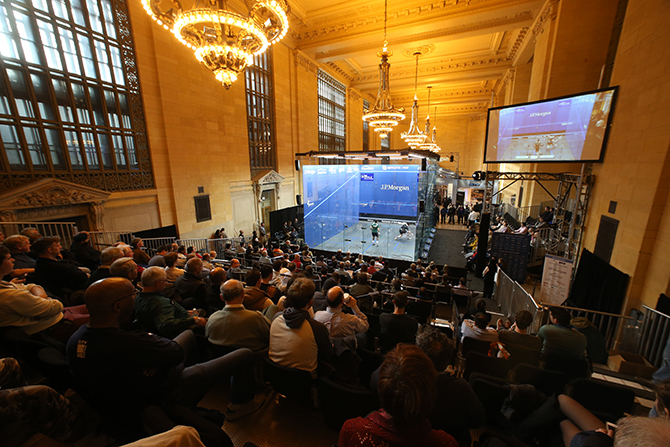 By A.P. Connolly
It takes a lot to slow down NYC commuters, but creating a squash court in the middle of Grand Central Terminal will make anyone stop in their tracks. Enter the 2019 J.P. Morgan Tournament of Champions which returns to the icon Vanderbilt Hall for the 22nd consecutive year as the second richest event on the PSA World Tour with a combined purse of $357,500—the highest prize money in tournament history. The tournament will be held from January 16th through 24th.
Since 1995, the sport's longest continuous and most iconic tournament has attracted the world's top squash players. The Tournament of Champions will take place once again on the state-of-the-art Oracle NetSuite SuiteSuccess all-glass court. With its combined $357,500 prize money purse, the ToC leads the world's leading Platinum events in the 2018-2019 season, second only to the sport's first million-dollar tournament—the 2019 PSA World Championships in Chicago.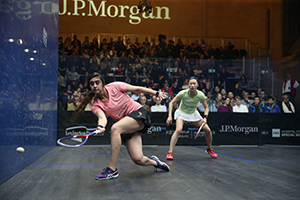 A WORLDWIDE SPORT
The competition attracts the very best squash players in the world including current men's World Champion Mohamed El Shorbagy and current women's World Champion Raneem El Welily, both from Egypt. Also, Egypt's Nour El Sherbini and Germany's Simon Rösner are set to defend their 2018 ToC titles against the top-ranked players. El Sherbini, World No. 1, has her sights set on what could be an incredible third ToC title at just 23 years old. Rösner, World No. 5, made his breakthrough at the 2018 ToC when he captured his first career PSA World Platinum title in what was his 12th tournament appearance.
Fans will also see past men's Champions Gregory Gaultier of France, James Willstrop of England, and Ramy Ashour and Karim Gawad of Egypt. Women superstars include Egypt's Nouran Gohar and Nour El Tayeb who will join El Welily and El Sherbini in the draw featuring past ToC Champions Nicol David of Malaysia, and Camille Serme of France. Also competing will be former World No. 1 Laura Massaro of England, and America's No. 1 Amanda Sobhy of New York.
"Interest in squash has reached a new level, especially as squash lobbies to be the next new Olympic sport in 2024 or 2028. It's only fitting that the world's best-known tournament here in the heart of New York City continues to increase its prize money, pay women and men equally, and present more sessions to the public and ticketed fans," said John Nimick, Tournament Chairman and Founder.
The ToC welcomes its 11th year of title sponsor support from J.P. Morgan. The ToC is the only sports championship presented annually in Grand Central Terminal and is the sports oldest men's professional tournament dating back to February 1930.
For more information on the J.P. Morgan Tournament of Champions and to purchase tickets, visit tocsquash.com.