ON STAGE
The New York City Ballet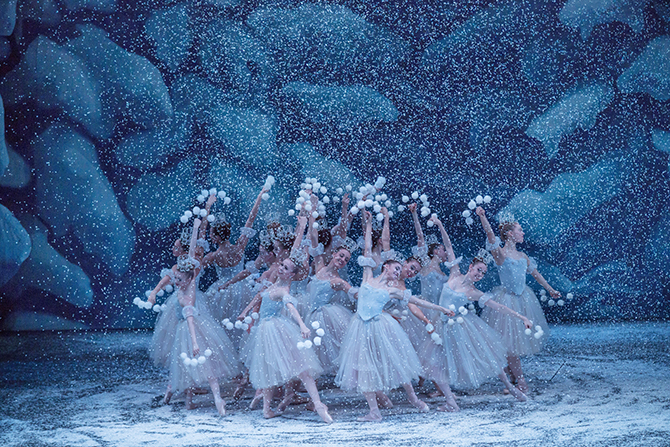 The soft beauty of a crystalline snowstorm leaves us spellbound in New York City Ballet's
George Balanchine's The Nutcracker. ©Paul Kolnik
By Lori Simmons Zelenko
With visions of sugarplums dancing in our heads, we'll revisit our childhoods this holiday as New York City Ballet presents the annual season of George Balanchine's The Nutcracker® at the David H. Koch Theater at Lincoln Center. One of the Big Apple's most beloved traditions, NYCB's The Nutcracker is a spellbinding experience for children of any age, best though for ages five and up but suitable for the inner child in us all.
Little ones will hold their breath as the Christmas Tree (weighing in at a ton) grows to more than triple its size, at once scared and enthralled, while adults smile, remembering the experience from days when they too were on the edge of their seats as the clock chimed midnight and all through the house, creatures were stirring, yes even a mouse. Frothy and fabulous, George Balanchine's Nutcracker comes complete with a blizzard of ballerinas, toy soldiers and fairytale fantasies; a magical evening of pure delight.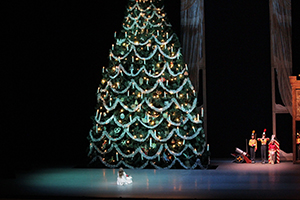 Awe-inspiring, the Christmas tree that more than triples in size fascinates in New York City Ballet's George Balanchine's The Nutcracker. ©Paul Kolnik
A PERENNIAL FAVORITE
New York City Ballet's (NYCB) production of Balanchine's masterpiece premiered on February 2, 1954, long before Lincoln Center was even built. More than sixty years later, The Nutcracker and its score have become perennial favorites across the U.S.A, with now countless versions enchanting new generations of children.
Peter Ilyitch Tschaikovsky's glorious score as delicate as it is whimsically menacing, makes the ballet a marvelous voyage through the dreams of childhood. Powerful and poignant as much as it is playful and pretty, the choreography for George Balanchine's The Nutcracker® tells the magical tale of a girl and her Nutcracker as they travel to the Kingdom of the Sweets, where the Sugarplum fairy makes every child's dream come true. The scenery by Rouben Ter-Arutunian is a spun-sugar treat. The costumes by Karinska sparkle with fairy dust. And the lighting by Mark Stanley, after the original design by Ronald Bates, creates a total experience at once fanciful and suspenseful. NYCB's entire roster of more than 150 dancers and musicians, as well as more than 125 children, appear in two alternating casts, from the School of American Ballet, the official school of New York City Ballet.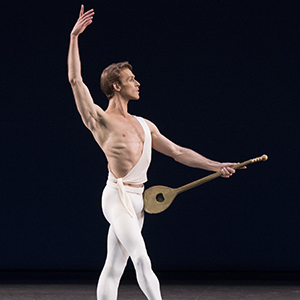 Adrian Danchig-Waring in George Balanchine's neoclassical Apollo a highlight
of New York City Ballet's 2019 Winter Season. ©Paul Kolnik
NEW YORK CITY BALLET WINTER SEASON
Opening night January 22, 2019 for NYCB's Winter Season coincides with the 115th birthday of NYCB's co-founder and artistic director George Balanchine (1904-1983). Considered the father of American Ballet, his style, dubbed neoclassical, fused the classicism of Russian Tradition with the contemporary movement Balanchine adopted for his work on Broadway and Hollywood. A performance of the Stravinsky/Balanchine Greek Trilogy, consisting of the ballets Apollo, Orpheus, and Agon, starts January 22nd. These three ballets express the core of NYCB, revealing its identity as a bridge between the classics of the past and the verve and excitement of modern dance.
For Balanchine Apollo was something of a fresh start; as the experience of creating it allowed him to understand the close relationships that gestures, like tones in music and shades in painting have with one another. Like a family, he observed, all these elements are beautifully inter-connected. This vital perception shaped the perfection of Apollo and infused Balanchine's future work.
The Winter Season will also feature three Balanchine ballets set to the music of Tchaikovsky—Serenade, the first ballet Balanchine choreographed in America, sweepingly romantic, Mozartiana, prayerful at first then becoming pure exhilaration, and a regal ballet with tiaraed tiers of corps de ballet dancers, Tschaikovsky Piano Concerto No. 2 starting January 23rd. —LSZ
Homage to the delightful Sugarplum Fairy. Lauren Lovette, Emerson Alexander, and Ian Zelbo in George Balanchine's The Nutcracker. ©Paul Kolnik
MOMENTS TO CHERISH
Though the Christmas tree that grows from 12 to 40 feet is my favorite spellbinding moment, the production is completely captivating: The onstage snowstorm casts a gentle spell, the children scamper forth out from under Mother Ginger's wide, wide skirts (the costume measures 9 feet wide and weighs 85 pounds) and ballerinas dance the ethereal Waltz of The Flowers, as graceful as blossoms wafting through the air. Each child in the audience will find a favorite moment to cherish in their hearts forever. One million watts of lighting, the most used in any New York City Ballet production, light up the stage for the grand finale leaving kids and adults transported to a place where romance reigns and sweets rule as all that's fearsome is overcome by the power of love.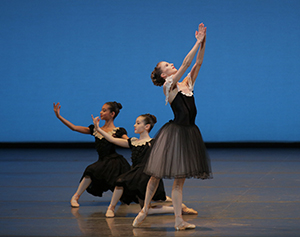 Prayerful at first then exhilarting, New York City Ballet's Mozartiana with Sterling Hyltin set to music by Tschaikovsky starting January 23. ©Paul Kolnik
Ticket prices start at $45, and New York City Ballet also offers a Sweet Seat VIP Package, which includes premium seating, a complimentary souvenir book, and a 15 percent discount at the NYCB Gift Shop. Plus, for every two Sweet Seat tickets purchased, audience members will receive a coupon for one complimentary keepsake photo taken with a character from George Balanchine's The Nutcracker®.
For more information on The New York City Ballet and to purchase tickets, visit nycballet.com. The 2018 season of the holiday classic, sponsored by The Travelers Companies, Inc., will include 47 performances through Sunday, December 30, 2018.