THE PERFECT MATCH
Mastering The Art Of Wine & Food Pairings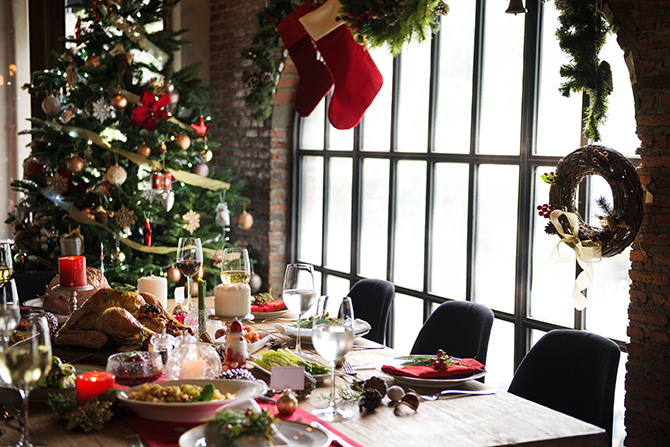 By Tina Mulqueen
When I was a kid, we had a holiday tradition. Every year during celebratory meals, the children in my family were invited to partake in the adult festivities by having a glass of wine. Only, there was just one wine offered (if you could call it wine). The sparkly red accompaniment more closely resembled a wine cooler, and I remember it was about five dollars a bottle at the local grocery store. Perhaps this was my parents' genius and the reason I didn't drink until I was much, much older.
If you're looking for something a little more refined to offer your guests, but aren't sure where to start, we have you covered. We connected with our friend Keith Belter, a wine expert and restaurant wine buyer, to craft some perfect pairings for traditional holiday dishes.
---
THE MAIN COURSE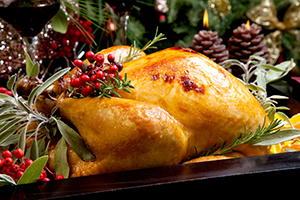 TURKEY
Time-honored turkey recipes with mashed potatoes and gravy tend to be heavy, so you might consider pairing them with a lighter bodied wine. "White wine with high acidity, like Pinot Gris, can balance out the fat and salt from a turkey feast," says Keith. Because you're searching for a Pinot Gris (or Pinot Grigio, depending on the region) with high acidity, you'll want to gravitate toward areas that harvest the grape early, such as Italy and Germany. Or, if you're looking to buy local, you might seek out a Pinot Gris from a Finger Lakes label. As an alternative to Pinot Gris for those averse to white wines, consider a Rosé.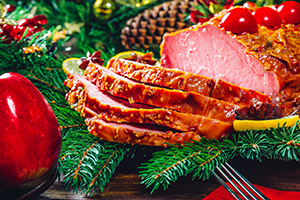 HAM
If ham is the center of your holiday meal, think about how it's prepared when you're selecting wine to pair. If you're serving a honey ham, for example, you'll want to ensure your wine is not too sweet. While the Riesling grape has a reputation for being ultra-sweet, typical Rieslings are actually on the dry side. A dry Riesling with just a touch of residual sugar can help to balance out the saltiness of a ham dinner. The Riesling grape flourishes in the Finger Lakes region, so you're apt to find a great bottle right here in New York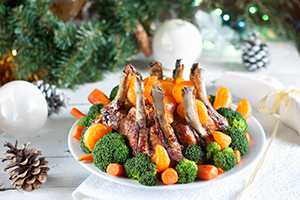 LAMB
"Lamb tends to be a bit gamey, so you'll want to pair it with a full-bodied red," says Keith. A big, bold Cabernet Sauvignon, such as one you'd find from the Napa Valley region, works well with lamb. If you're not a Cabernet Sauvignon fan, a Syrah or Red Zinfandel are other reliable options. Look for a moderately tannic wine to bring out the flavors in the meat.
DESSERT
PUMPKIN PIE
"A dry dessert wine, like Oloroso Sherry, pairs well with the sweet baking spices typical of pumpkin pie," says Keith. Oloroso Sherry is not generally very sweet, and it picks up the flavors of oak casks that it's aged in. The oak influence will enhance your pumpkin dessert without assaulting your taste buds with an overabundance of sugar. To that end, avoid cream and sweetened Oloroso Sherries and Oloroso blends for this pairing—you should be able to find these designations on the label.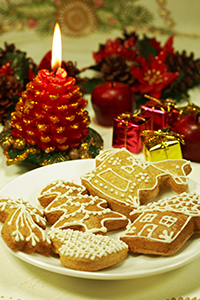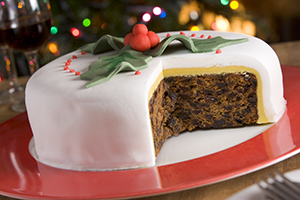 FRUITCAKE
For some reason, fruitcake still pervades our winter season celebrations. From festive holiday baskets to potluck offerings, it seems this faux-dessert can't be avoided. If you, like me, are hoping to make fruitcake more tolerable, pair it with an ice wine. Because ice wines are produced from grapes frozen while on the vine, they produce small batches of highly concentrated, very sweet wine. Since fruitcakes are dense, and not exceptionally sweet, the ultra-sweet ice wines will enhance subtle fruit flavors. Ice wines can be hard to find, however, because their production is dependent on the weather. If you have trouble finding an ice wine, a Ruby Port will do the trick.
GINGERBREAD
While we tend to gravitate toward wine for holiday meal pairings, there's no denying the unique relationship between gingerbread and stout. Flavors of ginger, cloves, and cinnamon are well-complemented by the dark beer. You won't have much trouble finding a dark, winter beer given the prolific nature of micro-brews available today.