BOBBY VAN'S
More Than Just A Steak Lover's Paradise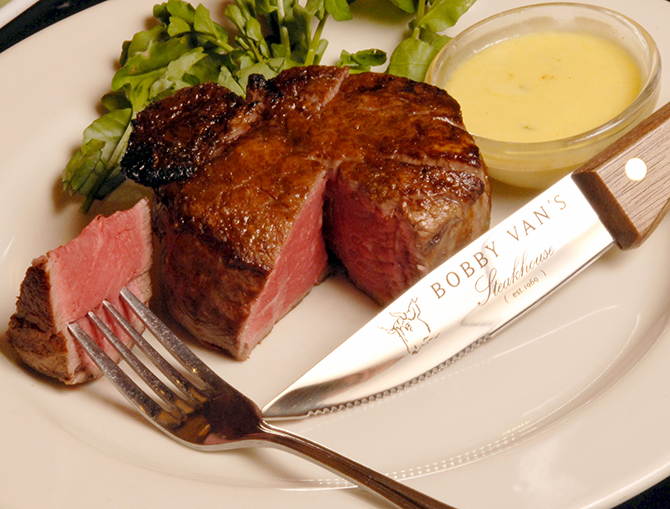 By Anne Raso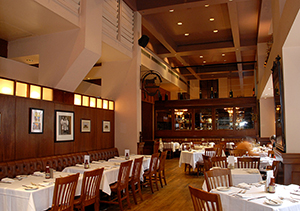 Bobby Vans 46th
It goes without saying that Bobby Van's is a legend of the Manhattan steakhouse scene, not just for their prime quality meat but also their portion size. This meat lover's institution arguably has the biggest steaks in the city (the Filet Mignon is an amazing 12- to-14 ounces)—all served in a cozy classic wood-paneled environment.
As one manager told me, Bobby Van's meat is "all about the wow factor" and judging from my recent dinner at its Park Avenue location, there's no argument there. Food comes out fast, is highly consistent while the wait staff is courteous and aims to please all types of diners. The Filet Mignon was ultra-tender and incredibly delicious but we discovered a "sleeper hit"—Horseradish Encrusted Salmon. My guest declared this "as the best salmon dish ever!"
We asked affable owner Ricky Passarelli if he agrees that the large cuts are indeed the restaurant's major wow factor. "Absolutely! We eat with our eyes first and even if steak isn't what you want, people still tend to look when a large sizzling Porterhouse is delivered to a table," he remarked, "and one of three popular cuts customers prefer. The others are Filet Mignon and Rib Eye. No surprise." However, Passarelli is also crediting the remarkable appetizers and sides (which include Creamed Spinach that many Yelp! readers declare "the best in the city") along with a Caprese Salad composed of divinely fresh Handmade Mozzarella and Heirloom Tomatoes.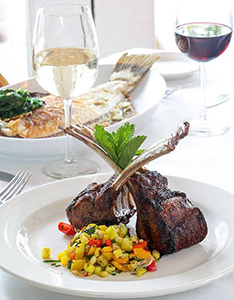 Broiled lamb chops
SOMETHING FOR EVERYONE
At their Park Avenue restaurant, you may notice the lunch crowd is predominantly men enjoying their favorite cuts. Early evening is the after-work commuter crowd (it's a mere two-minute walk to Grand Central Terminal). As Passarelli says, "I think the key to our success and longevity is that we know what our customers want. The lunch crowd of mostly businesspeople expect a great meal and then be back at their desks in say an hour. The after-work crowd needs that downtime to relax with great drinks and apps that are delicious and reasonable priced. As for the tourists, they want a place that is quintessentially New York."
Before you New York foodies ask, Bobby Van's does carry the trendy Cowboy Cuts that are extra-large (and uber-expensive). "Diners are becoming more sophisticated and informed with their choices and a part of that is how the food is presented. The Cowboy Cut is one of the more popular options, as it's such a spectacular cut of meat all on its own; it needs nothing else on the plate to look impressive," Passarelli said matter-of-factly.
One has to wonder if the healthy eating trend has affected the steakhouse biz and if it was necessary to add more fish and vegetarian dishes to the Bobby Van's menu as a result. (BV's does offer items such as steamed fish, veggies, and salads). Passarelli remarked, "It may seem like a contradiction, but healthy eating and steakhouse are not mutually exclusive, especially at Bobby Van's where we have always prided ourselves on the variety of our menu. There are plenty of options for those looking to change their diets and with over a dozen seafood and salad options available, we are more than happy to accommodate."
KEEP IT SIMPLE
Passarelli puts the true appeal of Bobby Van's in a nutshell when he tells New York Lifestyles Magazine, "It's about familiarity. People come to Bobby Van's because they know they are getting a great meal, and part of that is knowing what the food is supposed to taste like. We keep it simple, so the quality of the cut and aging process comes through with each bite."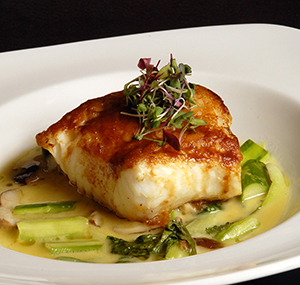 Seabass
Naturally, being the owner of a prime steakhouse has its challenges and requires being "on call" almost 24/7. He is proud of the fact that he has helped make Bobby Van's successful in the country's most competitive steakhouse market. Passarelli concluded with a smile, "Being successful and enjoying the longevity that Bobby Van's has maintained is the greatest highlight and challenge (of my career). As a restaurateur in New York City, trying to keep a control on cost is never easy. Being able to have a business that is profitable while keeping the customers happy—and willing to come back—is an achievement that I am glad to say I enjoy daily."
The key to Bobby Van's success is, according to Passarelli, quite simple: "Great ambience, great food, and great service." We agree!
For more information on Bobby Van's Park Avenue (or any of their other locations in NYC and Washington, D.C.), visit bobbyvans.com. Reservations are highly recommended but not required.