TECH TALK
'Tis The Season For Gifts & Gadgets
By Will Read
There is nothing like starting the New Year owning and mastering the latest and innovative technology. Here is a selection of top-rated devices and ones we feel will make your loved ones feel they are synced with the latest hi-tech gadgets and technology trends in 2019.
---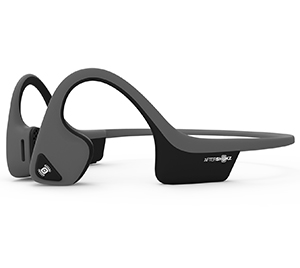 AFTERSHOKZ
Trekz Air Headphones
Built incorporating the next generation of bone conduction technology (that is, headphones which transmit music through bone itself), Trekz Air are AfterShokz's lightest and most organically designed open ear headphones to date. AfterShokz cut the bulk and titanium everywhere possible to ensure they not only fit more securely but sound better too. Trekz Air is inspired by the demands of elite and aspiring athletes motivated by their music and their world while also wanting mobility—idea for the rest of us on the commute! Info: aftershokz.com.
---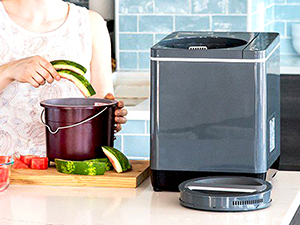 FOOD CYCLER
Food Waste Recycler
One of the big social issues to gain steam this year has been the issue of the amount of food waste we generate as a society, both as a consequence of sell-by dates and labeling as well as consumer preferences. Why not transform your food scraps—cooked and uncooked—into a beneficial addition to your garden? Some may turn their nose up at the idea of a composter however this new Food Cycler recycler takes just three hours to dehydrate food scrapes and reduce the volume by about 90 percent. Add it to your soil outside, and with some water and time for the byproduct (your incredibly shrunken leftovers) to decompose, it'll release micro-nutrients that help plants grow. Info: nofoodwaste.com.
---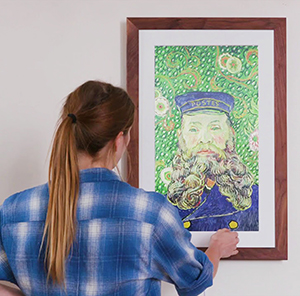 MEURAL
Gesture Controlled Digital Art Frame
Remember the early, clunky digital picture frames which were a great concept but looked more like a laptop? This digital picture frame does not even look digital—it has an image resolution and picture display quality that is much more lifelike and beautiful. The sophisticated matte finish and statement size make it museum-worthy and elegant. Meural lets you show off your own photos or famous works of art (over 30,000 historic paintings are included). You can change the artwork any time you like via an app or through gesture control. The ambient internal sensor regulates the display to create an ideal, anti-glare image and you can reduce your carbon footprint traveling to the museum on a cold day this winter. Info: meural.com.
---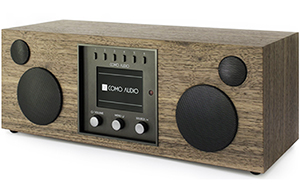 COMO AUDIO
Duetto Smart Connected Hi-Fi Music System
Inside this classic, 1970s-inspired wooden design lives a robust, hi-fidelity 2018 digital radio. Designed by sound guru and Audio Hall of Fame veteran Tom Devesto, the Como Audio music system both is smart and has good looks—an all important consideration for a top rated gadget. You can customize its buttons to play music from different sources (FM, Internet radio, Bluetooth, Spotify Connect, etc.) and rediscover your music and radio loves at the touch of a button. Info: comoaudio.com.
---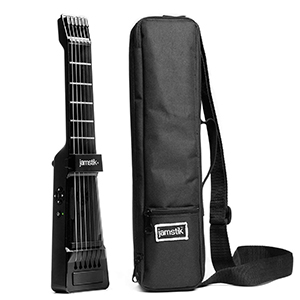 JAMSTIK+
Bluetooth Guitar & Travel Case
Have you kept postponing that dream to play a guitar? Learn to play at your own speed with this wireless, compact smart guitar from Jamstik+. A traditional looking guitar neck with strings and frets plays through your iPhone, iPad, or Mac; free, downloadable lessons provide instant instruction and evaluation. Learn the basics or tweak your technique. You can even create your own music through MIDI apps, like Apple's Garage Band and perhaps become the next rock sensation. Info: jamstik.com.
---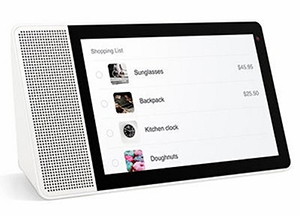 LENOVO
Smart Display
This is perfect for the Smartphone/tablet user on your list. Wow them with this device. More than just a hub for smart home gadgets, the Lenovo Smart Display comes equipped with a built-in Google Assistant, so you go about your day with ease. Not only does the hands-free display provide answers to all questions, but you can easily access your daily schedule, the weather, YouTube videos, and more with just your voice. Info: lenovo.com.
---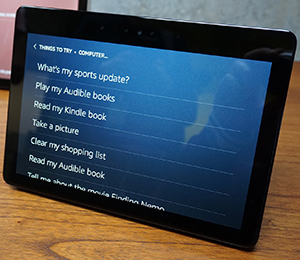 AMAZON
Echo Show (2nd Generation)
Everyone's favorite voice-activated digital assistant (also known as Alexa) is morphing into an immense array of consumer products from light switches to televisions. Amazon has designed a family of control units to get Alexa into your hands. The Echo Show is distinct from its sisters by residing within a 10.1" HD screen and so can display on voice request information or music videos or to make calls by configuring online "skills"—which are essentially simple programs which join the dots of collecting your preferences and gadgets into one place. With over 50,000 skills and counting, Alexa is continually getting smarter and more enmeshed into your world. The Echo Show provides a nice combination of voice plus screen to ease your (or your gifted recipients) entry into this brave new world. Info: amazon.com.