PRIME STAYS
NYC's Hotels Light Up The Holidays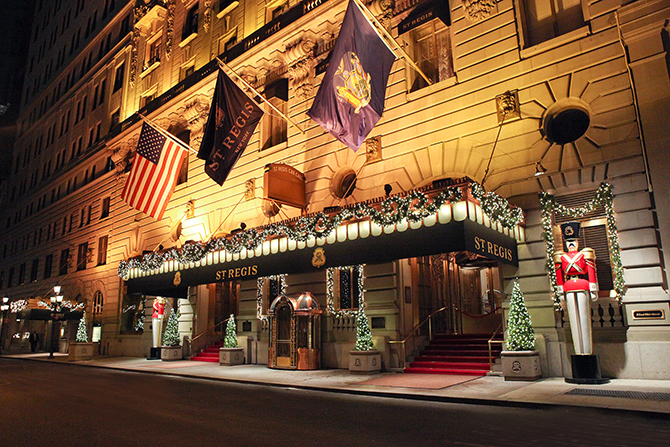 By Diana Roberts
No one does hospitality like New York City. And come the Holiday Season, hotels go overboard decorating every square inch of space. So, whether it's a weekend getaway or simply to stop in to see the lobbies, it's easy to get in the Holiday spirit with so many hotels decking their halls. Here, some favorites as well as luxurious bonuses to round out your Winter Wonderland.
The Surrey
THE SURREY
For those craving a treat after gallery hopping and boutique shopping indulge in a cup of La Maison du Chocolat's hot cocoa this Winter season. Built in 1926, the 180-room hotel was once an intimate hideaway to JFK, Bette Davis, and Claudette Colbert. It continues to exude the ambiance of a glamorous re-imagined town home with all the premium features of a hotel. Running through Winter 2019, the hotel will serve La Maison du Chocolat's signature hot chocolate with featherweight whipped cream five days a week (Wednesday through Sunday from 10 am to 1 pm) in front of The Surrey Hotel and also at its flagship Madison Avenue store location (from 2 to 5 pm).
La Maison du Chocolat and The Surrey have also collaborated on an exclusive offer for guests who opt to book a stay in the Presidential Suite. Here's what to enjoy:
A private chocolate ganache class with La Maison du Chocolat's master chef, Nicolas Cloiseau, who will fly into New York from Paris solely to engage with the suite's guests in a delicious masterclass.
Nightly turn-down service will include the La Maison du Chocolat. The in-room hot cocoa cart will be available to enjoy.
A collection of daily amenities consisting of seasonal gifts from La Maison du Chocolat.
A professional decorator who will transform the suite into a Winter Wonderland—so that it truly feels like home for the holidays.
The exclusive offer is priced at a minimum three-night stay. Info: surreynyc.com.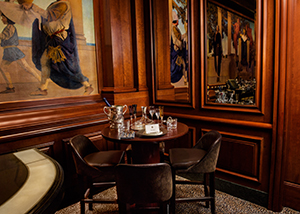 St. Regis Table 55
ST. REGIS HOTEL
Why wait standing at the bar for a cocktail if you don't have to? If so, head to the King Cole Bar at the St. Regis where you'll find Table 55—the only bookable table in the bar's storied history. Only guests who reserve Table 55 will be granted access to its incomparable menu of rare whiskeys, vintage wines and expertly crafted cocktails complimented by an exclusive bar menu served on the table's own, ultra-luxe Christofle and Bernadaud place settings, all within the walls of one of New York City's most beloved bars.
Table 55 is named after the hotel's location on the corner of 55th Street and 5th Avenue. This coveted table can be found nestled in a private corner of the bar beneath the watchful eye of Maxfield Parrish's the Old King Cole Mural, setting the stage for an intoxicating, one-of-a-kind spirituous adventure unlike any other in New York. Table 55 is the bar's only table with access to the exceptional wines from the hotel's wine cellar, which otherwise cannot be purchased in the hotel. To compliment the finest wines and spirits, Table 55 grants guests exclusive access to a decadent hidden menu as well as full access to the legendary bar's standard menu and drink list.
The King Cole Bar's intimate Table 55 may be reserved by one party per night starting at 5 pm. Starting at a reservation fee of $2,500 minimum, which you can apply directly to your bar tab, this exclusive table can accommodate up to five people. Info: Reservations for Table 55 at The King Cole Bar can be made by calling 212-350-7155 with 48 hour notice.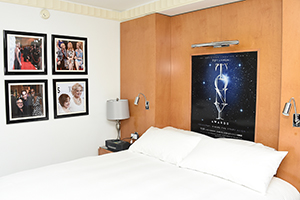 Sofitel New York The Tony Awards Suite
SOFITEL NEW YORK
The elegant Sofitel New York is not only a place to rest your head, but also dream of Broadway stars. Just a short walk from Manhattan's Great White Way in the heart of the Theater District, Sofitel New York—a model of drama and sophistication in its own right—provides easy access to Broadway's top performing artists, longest running musicals and the hottest new shows. And, thanks to its partnership with Broadway.com, guests can purchase tickets directly from the hotel website. Even better, Broadway fans can take advantage of the hotel's Tony Awards Suite boasting memorabilia and Tony-themed amenities that spotlight the evolution of Broadway and the character it has brought to New York City. Amenities include a Tony songbook, award-winning scripts, opening number photography, programs, invitations, Playbills from 1960 and beyond, and more. There's even a dressing room vanity with mirrored light bulbs to make you feel like a bit of a star yourself. Situated in a luxury Terrace Suite with breathtaking views of Manhattan's skyline, and pre- or post-theater dinner at Sofitel's Gaby Brasserie Française, you've got an experience that any Broadway buff would give a standing ovation. For those with deep pockets, it's a bargain at $2,000 per night. Info: sofitel-new-york.com.