AUSTRALIA'S WILD SIDE
Adventures Off The Beaten Path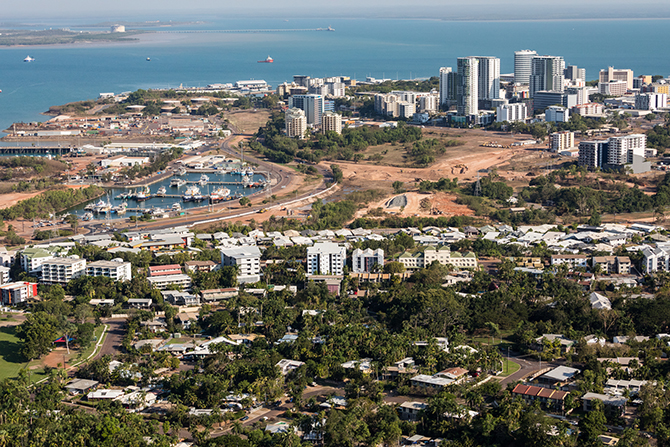 By Jenny Peters
Dreaming of an escape to a place where eco-adventures await, all wrapped in a blanket of dry, warm sunshine? Then it's time to start planning a getaway journey to the Land Down Under, where exotically beautiful wild places abound, spots with names that English speakers may mangle a bit, like Kakadu, Purnululu and Ningaloo.
Those Aboriginal names mark places that it usually takes visitors to Australia a while to see, as most first-time vacationers naturally gravitate toward the Eastern part of the country—the famed cities of Sydney, Melbourne, Brisbane and the tropical splendor of Queensland, where the Great Barrier Reef awaits. All wonderful in their unique ways, those places have likely been the ones you have seen if you've visited this magical, massive island nation.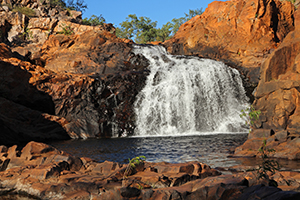 THE NORTHERN TERRITORY
Experience Oz's incredible, yet lesser known, natural wonders in Darwin, in the state called The Northern Territory, the state capitol that serves as the gateway to wonderfully wild places. The dry season, from April to November, is the time to visit, to avoid the monsoon rains that drench the area in the other months and make many places impassible. Get fortified for the coming adventures at Darwin's lively waterfront area, where convivial restaurants like Wharf One offer fresh local fare fished from the Timor Sea and gorgeous views, too.
EXPLORE Just an hour or two east by car from Darwin, Kakadu National Park is cited a UNESCO World Heritage natural site (one of many found in Australia), with two huge waterfalls—Jim Jim and Twin Falls—that are at their best in April and May, as well as numerous walking trails, billabongs (seasonal ponds) and much more to see. Watch for crocodiles, snakes and other slippery creatures as you explore these protected lands.
Even more remote and less populated is Arnhem Land, a dry season destination that brings you up close to a place that has barely changed since its original Aboriginal inhabitants arrived 50,000 years ago. The region's traditional owners once again have claimed this place, where rock paintings done using red ochre in those ancient times by the Amardak people are still as vibrant as the moment they were created.
Make Davidson's Eco Lodge your home base by flying in from Darwin and you'll soon marvel at this otherworldly outpost. Flocks of birds skim the water-drenched floodplain (which later in the season becomes walkable), both saltwater and freshwater crocodiles relax on the rocks by a nearby waterfall and rock wallabies boing-boing up cliff sides with effortless ease. Go fishing, hiking and even take a dip in a protected natural pool without the fear of a croc nibbling your toes. The lodge is filled with incredibly welcoming people, most of whom are part of the family that has been allowed to show lucky visitors this magical place for over 50 years. And the food is terrific, too.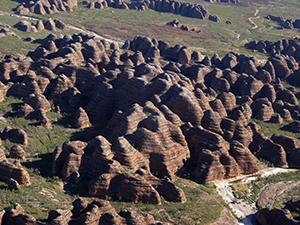 WESTERN AUSTRALIA
For more incredible wilderness experiences, hop on a quick small-plane flight from Darwin and head to Kununurra, on the edge of Western Australia. That vast state encompasses nearly one million square miles; here at the very top edge are some beautifully breathtaking places to see, in an area called the Kimberley.
EXPLORE El Questro Wilderness Park is a dry 700,000-acre protected place that features vast outback plains as well as deep gorges, high sandstone hills, huge baobab trees and even a waterfall or two. And while the park offers everything from campsites to simple bungalows, this is the place to splurge a bit and experience The Homestead. That five-star, nine-room all-inclusive resort is perched high on a cliff above the Chamberlain Gorge; look carefully down into the water, and you're sure to spot a massive crocodile meandering along.
Go on a guided bushwalk and learn all about the history, fauna and flora of this endlessly fascinating place, take a cruise in the river gorge (keeping hands and arms in the boat!) and climb up to Zebedee Thermal Springs for a swim in a secluded waterhole that's too remote for crocodile (or other human) companions.
Even more remote than El Questro is Purnululu National Park, another UNESCO World Heritage site and the home of the wackiest rock formations you've ever seen. Known as the Bungle Bungles, these striped sandstone beehive-like hills cover the landscape, many leading to huge gorges carved out of the soft rock by centuries of erosion. It's a fantasyland of incredible sights, including Cathedral Gorge, a red-rock amphitheater that takes a slightly strenuous hike to see but is worth every step. Warble like a bird there and your chirps will echo to the sky.
Make the extra effort to get to Ningaloo Reef, on the northwest tip of Western Australia. There, where the Indian Ocean delivers clear blue waters to the sandy shores, you'll find an undersea heaven that's yet another Australian UNESCO site. Snorkel with whale sharks (April to July) swim alongside migrating humpback whales (July to October) and explore the coral reefs all year round, diving with manta rays, sea turtles, moray eels, sharks and more via Exmouth Diving Centre.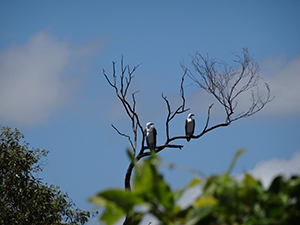 Find pristine beaches like Turquoise Bay and Mauritius Beach, and stay at the magnificent Sal Salis Resort, where beachfront glamping tents put you steps away from the ocean waves crashing nearby. It's a dream of a place, so don't be surprised if your stay at Ningaloo causes you to feel at one with nature, sea, sun, and sky. In fact, you may find your Zen there and never want to leave, after having a similar feeling at each of the wild places you've visited earlier.
So be it Ningaloo that makes your heart sing, or maybe Purnululu, El Questro, Kakadu, Arnhem Land or every single stop along this far-flung adventure, one thing is sure. You've just experienced some of Australia's most magical places, and ones that even most native Aussies have not yet ventured out to see.
For more information on Australia, visit tourismaustralia.com/en-us.