COOL OFF!
The Best Ice Cream In NYC
By Natasha Bazika
New York may be heating up, but you could be cooling down with some of the city's finest ice creamery available. Whether you're a purist and prefer banana, strawberry and vanilla, or adventurous and opt in for matcha, avocado and fig, New York is a city full of ice cream shops offering the classics, the trendy, and the plain weird (and wonderful) varieties to overheated locals and tourists alike. Here, are just some trendy and tasty ice cream shops to cool off this summer.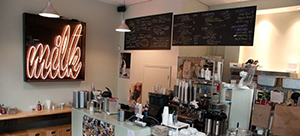 MOMOFUKU MILK BAR
With locales in Manhattan and Brooklyn, Momofuku Milk Bar is easily accessible and offers an array of selections from chocolate soft serve covered in pretzels to cereal milk soft serve. Their Instagram-worthy desserts are delicious with a pinch of salt and caramel for indulgence. Don't forget to try one of their famous cookies and pair with a birthday cake latte for those sweet tooth's out there. Info: milkbarstore.com.
---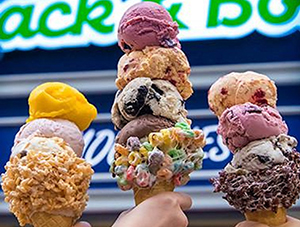 EMACK AND BOLIO'S
Emack and Bolio's is a child's dream covered in chocolate, fruity pebbles and other treats set atop a crunchy waffle cone—perfect for cooling off on any summer day. With locations in Brooklyn and Manhattan, you can stop by at any time to try one of the flavors like S'Moreo, Bananas Foster, Grasshopper Pie or Chunk O'Funk. They also have sorbets including fruity flavors like Raspberry, Lemon and Mango. If you're looking for something new, something funky and downright weird, Emack and Bolio's is famous for their Ice Cream Pizzas made with a rich brownie crust, creamy vanilla bean ice cream and hot fudge and topped with marshmallows. Info: emackandbolios.com.
---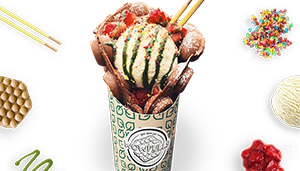 WOWFULLS
Wowfulls brings a taste of Asia in the shape of 1950s-style egg waffles. Yes! You heard me, egg waffles. It is a trend you see on Instagram and as the name suggestions, you will be saying "wow" with every mouthful. First they start with an egg waffle (Chocolate, Matcha, Red Velvet to start) then they fill it with an ice cream scoop of your choice and finish off with toppings of fruit, chocolate drizzle, Oreo crumble and anything else you desire (so long as they stock it). Info: wowfulls.com.
---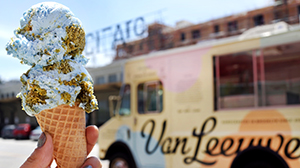 VAN LEEUWEN ICE CREAM
Nothing says good ice cream, like a good old-fashioned ice cream truck selling artisan scoops on the streets of New York. Each flavor is a celebration of some of the world's best artisan producers made from scratch in their Brooklyn flagship with nothing more than fresh milk and cream, cane sugar, and egg yolks. Their vegan scoops are also made with house-made cashew milk, organic coconut milk, organic extra virgin coconut oil, organic cane sugar, pure cocoa butter, and organic carob bean. Flavors include Salted Caramel, Mint Chip, Cookie Crumble Strawberry Jam, and lots more. As for the non-vegan options, indulge in Royal Wedding Cake, S'mores, Chocolate Cake, Black Sesame Ash to start. Keep an eye out for their pastel yellow ice cream truck and stop by one of their brick and mortar shops spread throughout Manhattan and Brooklyn see link for locations and more information Info: vanleeuwenicecream.com.
---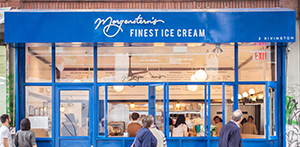 MORGENSTERN'S FINEST ICE CREAM
Morgenstern's is the love child of Nicholas Morgenstern, a self-made restaurateur with extensive pastry experience in New York and a love for the quintessential American indulgence. Head down to lower Manhattan to be greeted by a bright blue storefront filled with delicious creamy frozen treats including King Kong Banana Split and Avocado Ice Cream Toast. Don't forget to taste one of their several flavors such as Green Tea Pistachio, Crème Brulee, Cinnamon Whisky, Strawberry Rhubarb Crisp, Burnt Honey Vanilla and lots more. Info: morgensternsnyc.com.
---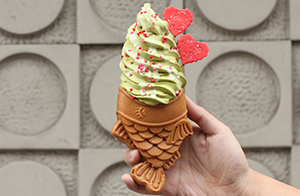 TAIYAKI NYC
When it comes to the prettiest dessert in town, Taiyaki is a clear winner. The trendy Japanese ice cream parlour in Chinatown serves treats that are so beautiful; you almost don't want to ruin them with your mouth. Picture this: soft-serve ice cream piled on top of an open-mouthed, Tai-fish-shaped waffle cone. The fish, a symbol of wealth and good luck in Japan, actually works. By the time you finish a cone, you feel fuller and happier. You can customize your order—try the Matcha and Black Sesame Ice Cream Swirl (yes, there are old favorites like vanilla and chocolate). The ice cream velvety texture could rival Dairy Queen soft serve. Info: taiyakinyc.com.
---

ODDFELLOWS ICE CREAM CO.
True aficionados already know that the ice cream at OddFellows is amazing. With locations in Manhattan and Brooklyn, it delivers the freshest ice cream—and is simply irresistible. Their greatest hits include Cornbread, Buttermilk Blueberry Honey, Chorizo Caramel Swirl, Burnt Marshmallow, and PB&J with Toast. Info: oddfellowsnyc.com.
---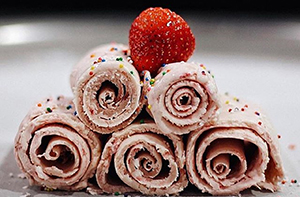 10BELOW ICE CREAM
The show here is watching as Thai-style ice cream rolls are prepared by pouring liquid cream onto a cold plate (negative-10 degrees), chopping in ingredients like fresh fruit or cookies, then smearing, spreading, and scraping the frozen results into cylindrical spirals. Flavors change weekly and may include Key Lime Pie, I Love You a Latte, or Ain't Got No Thai Fo' Dat. Locations in Manhattan and Queens. Info: 10belowicecream.com.