CULINARY HAVENS
A Guide To NYC Food Halls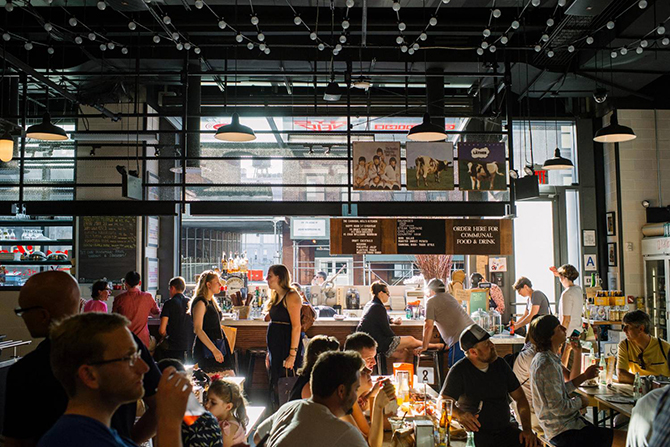 By Natasha Bazika
You'll find them in hotels, shopping malls, train terminals and even apartment buildings. What are we talking about? Food halls, of course. The obsession is real and for a good reason. New Yorkers and others alike prefer variety—one food hall could contain just about every dish from almost every country, all conveniently situated in one close-knit space—otherwise known as food heaven.
New York has always been known for its diversity. Brimming with every culture under the sun, it's now made even more convenient to go global and visit Bangkok one day and Peru the next, tasting your way through the world's best pho and ceviche or authentic Italian fare. Whatever your heart desires you can find it in one place. Here's the dish on the best food halls in the city.

CHELSEA MARKET
Chelsea Market is perhaps, one of the best-known food halls in the city as it opened in 1997 and continues to thrive today, drawing in crowds of visitors. This enclosed urban food harbourage offers a dish for every craving from at Los Tacos No. 1 and Beyond Sushi to the organic choices at The Green Table. The industrial building on the West Side is always a surprise with pop-up shops (both in the food and clothing category), wine stores, apparel and more that will have you roaming for hours. Info: chelseamarket.com.

GANSEVOORT MARKET
If you're looking for a blend of old and new, Gansevoort Market was the first open-air produce market for buying and selling regional produce onsite in 1884; the market continues to live on offering visitors a curated selection of locally produced goods and fare. The industrial-inspired architecture pays homage to the market's history while creating a modern atmosphere to eat, relax and converse with friends and family. Munch on delectable items from well-known purveyors such as Chip NYC, Milk and Cream Cereal Bar, Johns Juice, 2 Dough Boyz, Burger INC NYC and more. Info: gansevoortmarketnyc.com.

URBANSPACE @ VANDERBILT
Situated a hop away from Grand Central Terminal is Urbanspace @ Vanderbilt, which offers over 20 artisinal and chef-driven food concepts for a unique culinary experience, inspired by pop-up (temporary) food shops that were common in the city. This year-round food destination rotates concepts to offer new and exciting options from vendors including Dough, Mr. Bing, Two Tablespoons, Amali Mou and more. Info: urbanspacenyc.com/urbanspace-vanderbilt.
GOTHAM WEST MARKET
If you're in the Hell's Kitchen area, head over to Gotham West Market. This 10,000 square foot warehouse features high profile multiple award-winning vendors including Seamore's healthy and fun seafood fare, Whirlybird by Chef Seamus Mullen, Waffle De Lys and Ivan Ramen to name just a few. Invite friends and family to sample with you as you make your way through Asia, the Middle East and beyond with accompanying cocktails, wine, beer and other beverages. Info: gothamwestmarket.com.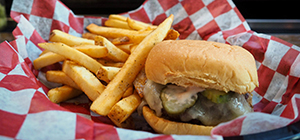 GOTHAM MARKET AT THE ASHLAND
Sister to Gotham West Market, the Gotham Market at The Ashland is a Brooklyn newcomer sprawling with choices. Situated at the base of a Fort Greene high-rise, The Ashland is a modern upscale food hall sporting an industrial look with exposed red brick walls, contrasted with wood tones and matte black finishings. Visitors can choose from an abundance of culinary options including light Asian noodles and dumplings from Hey Hey Canteen, South American fare from Bolivian Llama Party, beer and cocktails from Fulton Hall and much more. Info: gothammarketashland.com.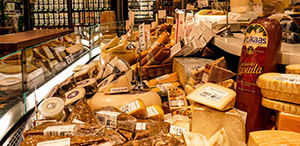 CITY ACRES MARKET
The Financial District is home to City Acres Market, a hybrid shopping destination that embraces the joys of cooking, eating and living life by offering a grocery store and restaurants boasting fresh and ready-made products. Explore over 15,000 square feet of this food haven, conveniently located in the heart of Wall Street, which provides a taste of the world, including locally grown honey crisp apples, or craft beers from across the globe. The market includes a cheesemonger, which stocks an assortment of gourmet cheeses; the deli; a fishmonger offering everything from freshly caught salmon to scallops; bulk goods and beer. If you're looking for a bite to eat while wandering the aisles, vendors include the Juice Brothers, the famous Beyond Sushi, The Cinnamon Snail, and Vanessa's Dumpling House. Info: cityacresmarket.com.

CITY KITCHEN
City Kitchen brings the five boroughs into one celebrated place—Times Square, offering hyped food concepts and the city's best dishes from well-known vendors. Everything from Brooklyn to the Upper West Side can be found in this modern industrial space, highlighting the best of the city. Providing a warm atmosphere, it's the perfect venue for grabbing a bite for lunch break, meeting up with friends, or finding a place to sit and simply people watch as you chow down on a delicious lobster roll at Luke's Lobster (tip: you may want more than one!) and Dough serves up the best "doughnuts" in town. Info: citykitchen.rownyc.com.