SPA SCENE
NATUROPATHICA CHELSEA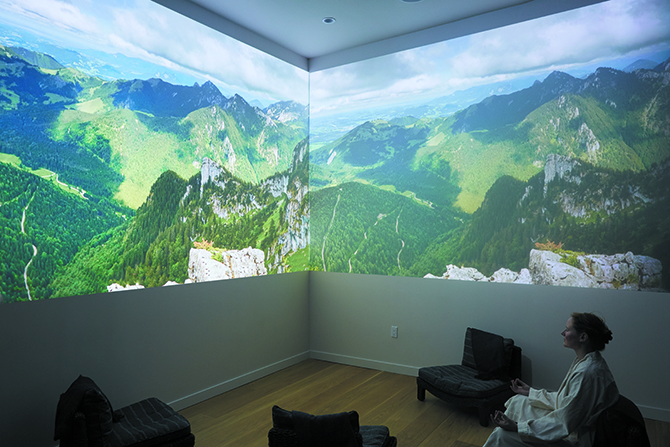 By Griffin Miller
Street scene on a recent overcast Tuesday afternoon: pedestrians darting around construction barriers and each other. Trucks and mini-vans are doing their loud traffic thing. Rogue cyclist shouting "out of my way!" Me, crazed and running late. Finally, Naturopathica.
I cross its storefront threshold. With its white walls enhanced with bamboo and leaf silhouettes and generous track lighting, "All is calm, all is bright." And all is de-stressed. To my left, the Vitality Bar, serving teas, cold-pressed juices, tonics and healthy snacks; to my right, an impressive span of blue and white Naturopathic products; towards the back, the check-in desk.
As it turns out, the shop also serves as a portal to the spa—and the contrast in surroundings is striking. A hallway, flanked by a number of treatment rooms, is lit with an eye to atmosphere: not too dark, but dim enough to create a serene ambiance. Instinctively you know communication here is sotto voce. Off the hall as well is the Consultation Room alcove where you meeting with a professional herbalist skilled in designing personalized therapy can schedule a plans that tap into Naturopathica's collection of "teas, tinctures and essential oils."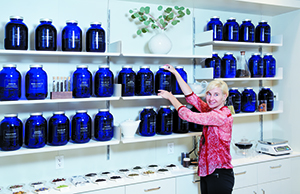 A HEALTHY LIFESTYLE
The more you explore and interact with the staff, the more obvious it becomes that every aspect—from overall design and layout to a mysterious bank of teardrop-shaped vials containing colorful oils—reflect founder Barbara Close's dedication to holistic living. Naturopathica was built on a foundation of well-being—a matrix for sustaining a healthy lifestyle from the inside out. As she told us, "Being confident in our own skin comes from making connections between our lifestyle and how we look and feel."
To this end, the Chelsea spa's staff of massage therapists and estheticians ensure every treatment is customized, matching your needs to the questionnaire (filled out upon arrival) and in-room consultation. Products (non-toxic and cruelty-free) are chosen accordingly and applied lavishly. They are also seductively effective.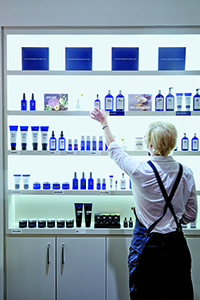 SKIN PERSONALITY ID My introduction to the transformative powers of Naturopathica came wrapped in the spa's signature Holistic Facial – a multi-layered adventure in skin rejuvenation that begins with identifying your "skin personality." My guide/esthetician was Alison, whose insights were as invaluable as her expertise in transforming my challenging dry skin into a healthy glow—a pièce dehydration, if you will.
The categories include:
• Hormone Reactive Skin that's influenced by the ebb and flow of hormones (i.e. blemish-prone, oily, post-menopausal, etc.).
• Stress Reactive The result of bad eating habits, lack of sleep, high-pressure job and life in general or environmental changes. Here, the skin can run the gamut from breakouts to rashes.
• Mature Thinning, dry skin; possibly lined and sun damaged, wrinkled, dark spots, depleted firmness, and broken capillaries.
• Adaptive The skin everyone wants requiring minimal attention thanks to average-sized pores and overall firmness/resilience. Still, the T-zone can act up, pimples can show up and too much beach time can take its toll.
For the record, I clocked in at Stress Reactive with some Mature thrown in to keep me extra vigilant. To describe the Holistic Facial from memory is a bad—make that pointless—idea. What I can recall is how the real world evaporated as Alison worked her alchemy, one silken layer after another, but not much more. As a veteran spa-goer with a substantial number of facials under my belt, I can tell you that this one ranks among the most relaxing and fascinating, since it involves no equipment other than Alison's hands and several custom-picked Naturopathic items.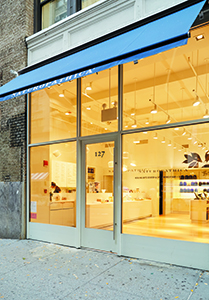 THE RIGHT RUB
Fortunately, the spa was able to fill in some of the blanks. For instance, while the Holistic Facial targets the individual in areas like exfoliation and extractions, the first two steps follow the same course: 1) a lymphatic brushing (utilizing a sensually soft brush, this portion of the program easily scores five stars); and 2) a sculpting massage to spark circulation while soothing facial, neck and shoulder muscles; featuring Manuka Honey Cleansing Balm (I now use it daily).
At the end of the session, when your face has assumed something akin to dewy nirvana, your esthetician gives you a card citing recommended products along with personalized diet, lifestyle and herbal remedy suggestions. My list included Plant Stem Cell Booster Serum and Calendula Essential Hydrating Cream. (You can make purchases as you leave, on a return visit or online.)
After the session, visit the Sensory & Meditation Lounge, an in-house getaway with its nature-like cinematography to entice you to jettison stress, connect with your spiritual side, or simply veg out. A sensory revamp on your terms.
For more information on Naturopathica Chelsea, visit naturopathica.com.