ANGUILLA
A Caribbean Paradise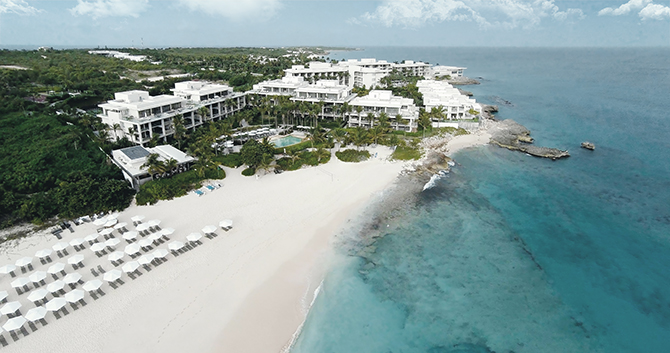 By Daniel J. Bollinger
Anguilla is a small island in the heart of the Caribbean, spanning just 35 square miles. It is here that visitors won't find cruise ships, crowds, or casinos, but rather 33 beaches and a tight-knit community. When you arrive in Anguilla, you are immediately treated like family.
Albeit a small island paradise, Anguilla boasts an unmatched level of luxury at the Four Seasons Resort & Residences Anguilla. The Residences have 136 keys comprised of Point House Residences, Beach Residences, and Villas. There's something for everyone here, from studios to five-bedroom homes.
INTERIORS
There are a variety of layouts, sizes, and levels of privacy throughout Four Seasons Resort & Residences Anguilla and luxury design is standard in all. Except for studios, all residences have full-size kitchens with stainless steel appliances. There is plenty of cabinet space, and many units have large marble islands. A design element that is consistent through every residence is the silver travertine floors. Starwood Capital Group, the owner of Four Seasons Resort & Residences Anguilla, even bought its quarry to guarantee a consistent supply.
All residences feature ample-sized bedrooms: one bedrooms start at 870 square feet and five bedrooms up to 9,500 square feet. Large open-concept layouts grace the residences that lead to expansive terraces with infinity pools, barbecue and lounge areas. Some patios have outdoor showers, while all residences boast fantastic views of the ocean. Interior designer Kelly Wearstler intentionally incorporated neutral hues throughout the property to enhance the pure and natural beauty of Anguilla such as the turquoise sea water, and native flora and fauna that make the island one of a kind.
The Villas offer outdoor wet rooms draped with silver travertine as well as outdoor lounge areas that create the ultimate sense of privacy and serenity. Penthouses and Villas have large terraces which feature lap pools with attached Jacuzzis, in which the water can be heated or not. All the master baths are spectacular, quite oversized with marbled-encased, deep soaking tubs and dual sinks. A glass table with "tusk" legs as the centerpiece serves as a great example of Wearstler's design acumen.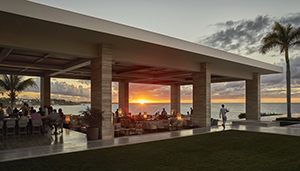 AMENITIES & ACTIVITIES
At Four Seasons Resort Anguilla, amenities run the gamut including a spa, sports pavilion, fitness center, and a children's center with daily onsite activities. The sports pavilion includes basketball, tennis, rock climbing, and more with complimentary clinics for both adults and children. The fitness center has many classes including boot camps and yoga. You will never miss a workout while on vacation. The resort's Sea Centre is fully equipped with snorkeling gear, Hobie Cats, boogie boards, paddle boards, and kayaks, all of which are complimentary. Off-site, Four Seasons Anguilla offers a multitude of water sports and activities including private boat excursions, scuba diving, snorkeling, sunset cruises, and motorized water sports.
RESTAURANTS & POOLS
The resort boasts three heated outdoor pools and four onsite restaurants. The adults-only Sunset Pool is an infinity-edge pool set between two restaurants. Sunset Lounge is a must for excellent sushi complemented by a long list of vintage Caribbean rums, classic island cocktails and stunning views over the sea. On the other side is Cobá where the menu includes local and international steak and seafood on par with the finest steakhouses in Manhattan. The resort's third restaurant concept, Bamboo Bar & Grill, overlooks Meads Bay and offers island-inspired cuisine adjacent to Bamboo Pool. Located along Barnes Bay, Half Shell Bar & Restaurant, a casual beachfront eatery, offers Caribbean classic cuisine and is one of the hidden treasures of the island. The third Aleta Pool is architecturally impressive with a number of signature palms planted in precise geometry surrounded by large cabanas— a vast aquatic garden designed for family gatherings.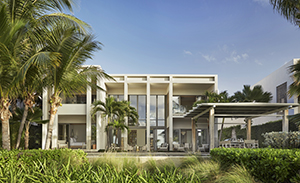 RECAP
Four Seasons Anguilla is a spectacular resort. Throughout the entire property, there's not a single place where you won't enjoy the cool ocean breeze. Once one discovers Anguilla's beauty, it is a place you come back to year after year. Four Seasons Anguilla has designed beautiful residences with this in mind, geared toward individual lifestyles and preferences. For guests who want to be home in the heart of resort life, the Point House Residences are for you. Situated in the heart of the resort, the residences are steps away from the pools, restaurants, spa, and fitness facilities. For a more private bespoke lifestyle, the Villa and Beach Residences are great options. Beach Residences are set on mile-long Meads Bay Beach near the Sea Centre and Sports Pavilion. Villa residences are nestled along Barnes Bay Beach offering the most seclusion and privacy. Whatever the preference, Four Seasons Anguilla has it. The spacious and remarkable homes encompass luxury, art, and style, while the turnkey lifestyle and generous outdoor spaces are designed to appreciate the island's beauty. For anyone who has been seeking an island paradise to call home, Four Seasons Anguilla is calling.
For more information on Four Seasons Resort & Residences Anguilla, visit anguillaprivateresidences.com.