108 LEONARD
Elegantly Defining Tribeca
By Daniel J. Bollinger
As the NYC real estate market cools down and the competition in the luxury sector heats up, 108 Leonard is a masterpiece of design and architecture. In these market times, one usually sees a flight to quality meaning the act of moving capital away from risky investments and toward safer investments due to uncertainty about the overall economy. 108 Leonard is waiting with open arms.
This project is sponsored by C3GB, with development managed by Elad Group, while Jeffrey Beers International (JBI) has designed the interiors. The building has been completely restored and re-designed inside. In fact, the building is an Italian Renaissance Revival landmark spanning an entire city block and initially built in 1894 by renowned architects McKim Mead & White. This is one of Tribeca's most iconic century-old buildings, which has been restored with all the timely attributes of that century including dramatic details of scale, proportion, and volume paired with updated, modern forms and contemporary design details. The impressive one-to-four bedroom condos are currently available at prices starting at $1.6 million.
The façade could not be replicated today, with all of its arched windows of varying sizes, columns galore and grand entrances (three to be exact). The fully restored Leonard Street lobby boasts floor-to-ceiling marble and landmarked double height ceilings—adorned with design choices such as Blue de Savoie chevron patterned flooring, a custom satin black and hammered nickel paneled reception desk and dual staircases that flank twin seating groups. There's additional discrete seating on the mezzanine level offering a step back in time concerning volume and space and a step into tomorrow with modern materials. The two other lobbies at Lafayette and Broadway provide entrances featuring high contrast dark stone flooring in a chevron pattern; cove lit ceilings with intricate molding detail; custom satin black and hammered nickel paneled reception desks and custom cast glass feature walls. These are the elegant design details that you will notice upon your arrival, and the interiors match this timeless point of view.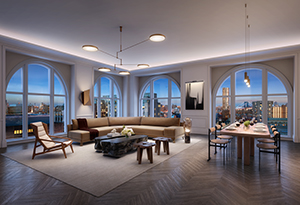 INTERIORS
The interiors are beautiful. With 9.5 to 15-foot ceiling heights, there is a plethora of light that enters these residences. Even the lower floors have incredibly high ceilings. Oversized doors match the volume of the spaces. The custom Scavolini kitchens designed by Jeffrey Beers for 108 Leonard offer lacquered wood cabinetry in satin white, a fully integrated Miele appliance suite and polished chrome Dornbracht fixtures. Two color palettes are offered, and a single slab backsplash and counters are standard. There is a huge kitchen island with storage all around. One design detail that stands out is a ledge that runs across the entire length of the backsplash. It is both simple and very functional. This design is so rare, I have only seen it in one other development.
The master baths are equally elegant with floor to ceiling Calacatta Mandria marble, cove ceilings, and a wet room with high 'niche' factor and rain shower head. Two design details that must be mentioned are the mirrored niche that runs along the length of the tub ledge and the mirrored ledge built into the medicine cabinets. The medicine cabinet is custom made, double mirrored, with outlets hidden inside.
AMENITIES
There are over twenty thousand square feet of amenities offered at 108 Leonard, including a resident lounge, fitness center, and rooftop entertaining and dining suites with multiple levels and open-air lounges. There are also the two most coveted amenities here: parking and pool. A 75 foot mosaic glass-tiled lap pool with sauna and steam room. Not just parking but a private, covered motor reception with valet attendant which is heated.
RECAP
108 Leonard is a masterpiece. C3GB and Jeffrey Beers International (JBI) have developed a new piece of architectural history in NYC. The level of sophistication and luxury in the designs are bar none. For those who expect nothing less than the best, 108 Leonard is the obvious choice.
For more information on 108 Leonard, visit 108leonard.com.