MOHEGAN SUN
A Year-Round Escape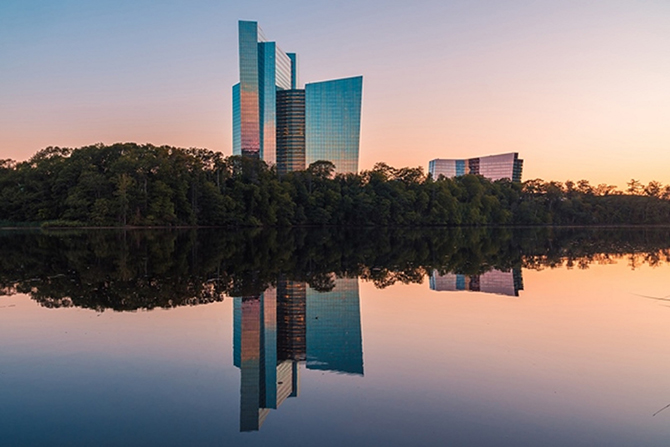 By Darren Paltrowitz
The luxurious two-tower hotel at Mohegan Sun allows guests the flexibility to stay for a quick escape or indulge in a weekend getaway. The Sky Tower and Earth Tower combined boast 1,563 spacious and elegantly appointed guest rooms and 175 suites, Mohegan Sun offers guests the opportunity to leisurely experience a wide variety of fine dining and entertainment.
Like the rest of Mohegan Sun, the 34-story hotel exterior and interior reflect Mohegan Tribal stories, traditions and designs as well as the Tribe's affinity with nature. The gleaming, crystalline tower pays homage to the natural materials the Mohegan's used to fashion arrowheads and the ceremonial objects that acknowledged good spirits, such as rock and smoky quartz. Its glass curtain-wall system gently reflects the landscape, while the building's geometric shape and large windows provide panoramic views of the surrounding New England countryside.
Operated by the Mohegan Tribe, it encompasses 240 acres of reservation land nestled along the banks of the Thames River in Uncasville, CT. In addition to its 364,000-square-feet of gambling space, there's also a Mandara Spa, multiple pools, fitness centers, a shopping arcade, and Golf Club. Given the wide range of amenities, no matter the weather, visitors can do as much (or as little) as they please.
Then, of course, there's the 10,000-seat Mohegan Sun Arena (which has hosted Billy Joel, The Eagles, Jennifer Lopez and Bon Jovi, as well as being home to the WNBA's Connecticut Sun), the Wolf Den (which has hosted Eddie Money and MC Hammer), and the comedy club known as Comix. In addition, the property has been the host of numerous festivals, including the Sun BrewFest, the Heart Of America Balloon Festival, and the New England Food Truck Festival. In other words, if you time your visit to Mohegan Sun right, you can experience world-class entertainment above all of the fun and relaxation you would expect.
IN THE AREA
Visitors to Mohegan Sun will also discover Mystic Country, a region rich in museums, attractions, vineyards and more. A trip to Mohegan Sun serves as the springboard for an unforgettable getaway, or an action-packed trip the whole family can enjoy, or a solo retreat. The following is a sampling of things to see and do in southeastern Connecticut. Info: Mystic Country, visit mystic.org.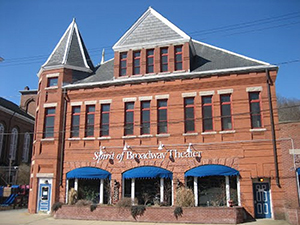 The Spirit of Broadway Theater
Mystic Seaport The Museum of America and the Sea is the nation's leading maritime museum. Explore American maritime history firsthand as you climb aboard historic tall ships, stroll through a re-created 19th century coastal village or watch our working preservation shipyard in action. Info: mysticseaport.org.
Old Lighthouse Museum The first government lighthouse in Connecticut was built in 1823. A climb to the tower offers a panoramic view of Long Island Sound, and the public can enjoy exhibits tracing the history of the community first settled in 1649. Info: stoningtonhistory.org/light.htm.
The Tantaquidgeon Indian Museum The oldest Native American Museum in the country was founded in part by Gladys Tantaquidgeon, the Mohegan Tribe's medicine woman. Opened in 1931, the museum has a collection of artifacts made and used by Mohegan Indians. Info: call 860.848.9145.
The Connecticut Wine Trail A number of local wineries and vineyards feature daily wine tastings and a guided tour including Stonington Vineyards (stoningtonvineyards.org), a Connecticut and California based operation on a beautiful 48-acre hilltop vineyard in North Stonington, and Chamard Vineyards (chamard.com), which sits on 40 acres of gently sloping fields on the Connecticut Coast.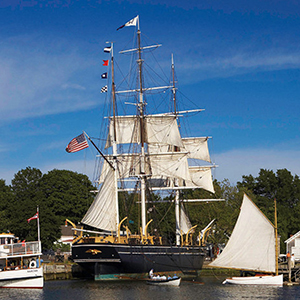 Mystic Seaport
The Spirit of Broadway This is an intimate, 74-seat, professional, award-winning black box theater which produces the very best in off-Broadway, regional and world premiere productions. Nationally recognized for artistic excellence and commitment to producing the finest in new works for the stage, The Spirit of Broadway Theater combines the best in regional talent with professional actors to create an unequalled theater experience. In addition to theatrical productions the theater presents the top names in New York City professional Cabaret talent throughout the year. Info: spiritofbroadway.org.
Essex Steam Train & Riverboat: Here's 2.5 hours of fun for all ages. The 100-year-old Essex Steam Train takes guests on a nostalgic tour of some of the Connecticut River Valley, during which guests meet up with a riverboat for a spectacular cruise heading north on the Connecticut River toward Gilette's Castle. For an even more memorable experience, visitors can enjoy the dinner train. Rides take place, rain or shine, May through October. Info: essexsteamtrain.com.
DINING DELIGHTS
With more than 40 dining venues, you'll win at these tables! Whether it's a quick bite on the run, a casual lunch with friends or a savory meal at a gourmet restaurant, there's something for everyone from celebrity restaurateurs to burgers and barbecue. And, yes, there are plenty of buffet options, too.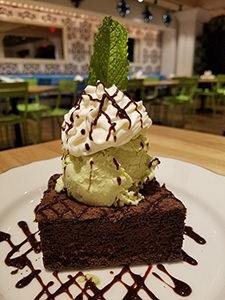 SolToro Tequila Grill
Gourmet
The options are endless and include Bobby Flay's Bar Americain which celebrates American cuisines, BALLO Italian Restaurant for exceptional cuisine, Pasta Vita featuring over 100 freshly prepared entrees, and Todd English's Tuscany with its accent on old world Tuscan fare.
For prime steaks, head to Michael Jordan's Steak House for its classic cuisine, award-winning wine, and personalized service. The menu can be dizzying with so many options available. Therefore they've made it easier for diners with a red "MJ" bullet on selected choices denoting popular choices. My guest and I decided on the red bullet recommendations and started with orders of Nueske's Double Smoked Bacon. The four large pieces of thick-cut bacon are not like anything you will get in your local butcher shop. They are juicy, to say the least, and served on top of a maple syrup glaze that is infused with black pepper. For the main course, the Bone-In Kansas City Strip was perfect. Other beef selections include a Prime New York Strip or Prime Delmonico. Of course, leave some room for a delectable dessert called The Bomb which includes flavoring from Chocolate Peanut Kit Kats or if you prefer the 23 Layer Chocolate Cake.
Casual Dining
Among the options available are Bobby's Burger Palace from celebrity Chef Bobby Flay; Chief's Deli for classic sandwiches, soups, and salads; Frank Pepe Pizzeria Napoletana offering brick oven thin-crust pizza; Jasper White's Summer Shack Oyster Bar featuring a seasonal New England kitchen from famed restaurateur Jasper White; Jimmy Buffett's Margaritaville an island escape with flavors of the Florida Keys.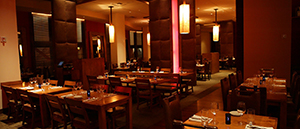 Michael Jordan's Steak House
A favorite among guests is SolToro Tequila Grill, located in Casino of the Sky, for its authentic Mexican menu. Start off with the Guac For Two prepared tableside on the Guac & Roll cart. Served with house-made chips it makes the perfect appetizer. SolToro's generously-portioned Taco Platters all consist of three tacos, as served beside rice and black beans. For an entrée try The Roasted Duck Tacos which are flavorful—you won't be disappointed. The dish includes pickled vegetables and puffed bean noodles, as served beside cherry hoisin sauce.
SolToro also offered an extensive cocktail menu with over 200 brands of tequila available. A good choice is the Mexican Standoff: Don Julio Reposado with hibiscus-infused agave and lemon flavoring. Another option is The Spicy Pina with hints of pineapple flavor and spice (best consumed with a glass of ice cold water nearby!). The Brownie Sundae dessert capped off an evening of incredible flavor experiences.
What makes Mohegan Sun so appealing? Well, for starters it offers something for everyone day and night. Entertainment and gambling options or pure relaxation that includes a full-service spa as well as fine dining make this the perfect escape—in your own backyard!
For more information on Mohegan Sun and its attractions, visit mohegansun.com.