Grand Slam
CITI TASTE OF TENNIS & SLOANE STEPHENS TAKE NYC!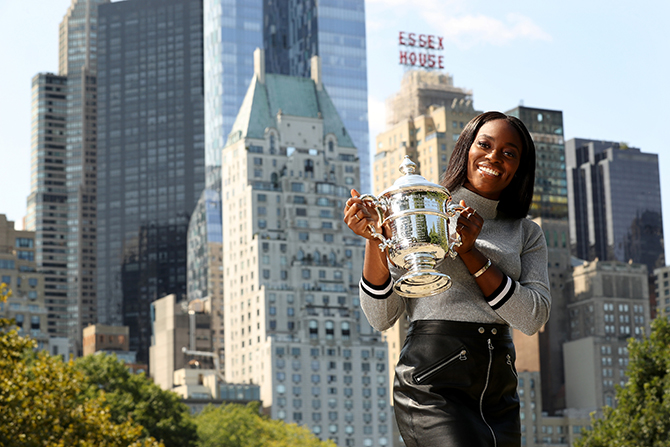 By Patricia Canole
Sports fans rejoice! It's August which means two-weeks of thrilling, white-knuckle tennis matches in Queens. This year's U.S. Open spectacular will be August 27th through September 9th and is sure to stir emotions with incredible feats of athleticism from the tennis elite.
But even tennis pros love to play—especially before the championship games get underway. What better place to do just that than at Citi Taste of Tennis—considered the World's Premier Food & Tennis Experience on August 23rd at Cipriani (110 East 42nd Street). Now in its 19th year and produced by AYS World, it brings together New York's professional chefs, tennis royalty, and luxury brands for an unforgettable evening of gourmet food, signature cocktails, and nonstop fun.
Excellent service has always been fundamental to professional tennis as well as New York restaurants. Where else can venerable fans meet and greet with Grand Slam royalty like the Bryan Brothers, Sam Querrey, Genie Bouchard, John Isner, and Kevin Anderson? Joining the star-studded fest will be New York celeb chefs including Nicole Gajadhar (Saxon & Parole), Paolo Dorigato (Lugo Cucina Italiana), Jorge Espinoza (Scarpetta), John Mooney (Bell, Book & Candle).
The evening will begin with the dynamic Sloane Stephens, who will face off in a Challenge alongside Chef Masaharu Morimoto during an exclusive VIP hour. Then the main affair begins at 7 pm when guests enjoy tastings from leading chefs, sip on signature cocktails, and escape to destination-themed lounges.
Now let's get acquainted with Sloane Stephens and Chef Morimoto and some of the talented pros who will be cooking up a spectacular evening in New York City.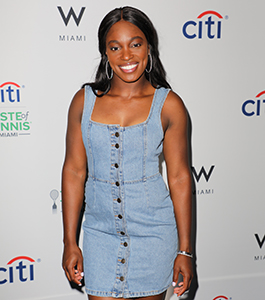 MEET SLOANE STEPHENS
Who is this young dynamo at center court? She's Sloane Stephens, the 25-year-old who won her first U.S. Open Championship in 2017 and is ready to fulfill her dream of winning a second championship this year.
But for those not familiar with her story, let's take a look at her rise to stardom. By 2016, Sloane had defeated Venus Williams, challenged Serena, and risen to the ranking of number 25 in the world of women's tennis. Then, she was forced to withdraw from the U.S. Open that same year because of a foot injury. She was out of commission for a long 11 months before making a return at Wimbledon in 2017.
Then in August 2017 we arrive at the U.S. Open. With Serena Williams sitting out on maternity leave, all eyes were focused on the young talents, past champions—and Sloane Stephens. It was truly magical to see this brilliant athlete as she emerged into the finals to win the championship title. Her rule of thumb is always to stay focused. "It's important not get too caught up on the 'what could be' and the noise around you."
New York Lifestyles had the pleasure to catch up with Sloane Stephens during her busy schedule. Here's what we learned about this bright, young athlete.
What drives Sloane Stephens?
Growth. I am a naturally competitive person, and I compete with myself. I always look to improve my game, run an extra five minutes longer than the day before just because I want to do better. As I compete more and more, it is important to me that I am advancing my skill set.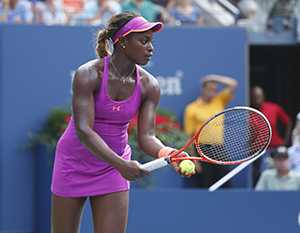 When did the tennis world feel more like a business for you?
First and foremost, tennis is a passion of mine. Tennis is also my job, and like any job or career—it requires focus and hard work. I am lucky enough that my job is something that I love to do. If I had to look back and choose a time where it changed as a business for me, it would have to be when I turned professional when I was 17, when I started receiving prize money and sponsorships.
What is your secret strategy to come back in a game?
Breathe and calm my mind. I have a great team. Before every match, we set an approach. As long as I trust my game and stay focused, I can push myself forward through points.
How does Sloane Stephens relax?
Hang out. I am pretty low-key when my schedule allows me to be. I hang out with my friends and my grandparents. I go to the movies, out to dinner, go shopping—all the normal stuff!
There's a story going around that Sloane Stephens loves Bingo. Is this true?
Yes! I love Bingo. When I hang out with my grandparents, we sometimes go to Bingo, and it gets pretty competitive. It's a lot of fun.
Other than tennis, do you have another favorite sport?
Basketball and soccer. Both are great live sports to attend and watch.
How do you see yourself in five years?
I don't have many expectations; I like to live in the moment. I am hopeful that I am still playing tennis. I hope to be healthy and continue to win more matches and some titles. In five years, I will be 30—now that is still pretty young to be in the sport. Yes, I'd like to keep playing.
---
Meet the Chefs
With more than a dozen chefs creating their magic, it's bound to be an evening of fun, food, and fantasy. Here, Chef Masharu Morimoto and some of the talented New York chefs you'll be meeting on August 23rd.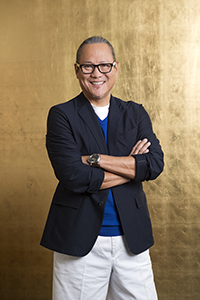 MASAHARU MORIMOTO
Morimoto
Without question, Chef Morimoto has been the key influence in creating the bridge between the culinary traditions of his native Japan and the American palate. Doing so has brought intense excitement, precise technique, and perfectly balanced flavors to thousands of diners throughout the world. But it didn't start that way.
Originally an athlete, Morimoto wanted to play professional baseball. After a shoulder injury had ended a promising career as a baseball catcher in Japan, Morimoto began studying sushi in his hometown of Hiroshima. He quickly grasped the technique of this exacting food art, and at age 24, opened his first restaurant. Five years later, he moved to America to explore new opportunities and possibilities. It was wasn't too long before Morimoto joined the original Nobu restaurant and was soon named Executive Chef. In 1999, Chef Morimoto appeared on the Food Network's Iron Chef where he was able to showcase his flawless technique and creativity with different ingredients. Two years later, he opened his first eponymous restaurant in Philadelphia. Morimoto expanded his culinary reach to opening restaurants in Mumbai and New Delhi. Then in 2006, the much-anticipated flagship restaurant, Morimoto New York opened. A decade later, his much-anticipated restaurant was launched in New York City, Momosan Ramen & Sake, which showcases his personal, modern take on traditional Japanese ramen.
---
ROXANNE SPRUANCE
Kingsley
Chef Roxanne Spruance entered the culinary world as a pastry chef apprentice in the highly regarded restaurant, Blackbird in Downtown Chicago. Working her way up in the Chicago restaurant industry, Spruance gained valuable knowledge and experience in all aspects of the kitchen. An athlete at heart, Chef Roxanne has taken her fearless, winning attitude towards sports and translated it into her approach towards food. As Executive Chef and co-owner of Kingsley, she's confident to experiment with different genres and ingredients and believes in creating a culinary product that is stimulating while never losing respect for the product. She creates innovative, seasonal food while respecting and incorporating regional traditions in her Lower East Side restaurant. Believing that the best food comes from fresh, seasonal products, she is passionate about purchasing from local farmers.
---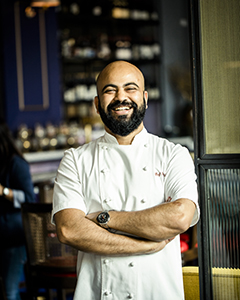 SUJAN SARKAR
BAAR BAAR
A man of few words but an artist known for his bold culinary leaps. Sujan Sarkar opened ROOH in San Francisco, where he served his interpretation of new-age Indian cuisine. With BAAR BAAR—New York's first modern Indian gastro bar—he's pushing the envelope even further.
Championing progressive cooking deeply rooted in tradition, Chef Sujan was an early adopter of the farm to table movement and his experiments with decade-old recipes have led to the birth of ambitious projects like Ek Bar—India's first Artisanal Cocktail Concept.
Sujan worked extensively Internationally, he worked at the Michelin starred 'Galvin at Windows' at London Park Lane and also headed up the hotspot Automat and Almada at Mayfair London, and in New Delhi took the helm at Olive Bar & Kitchen. All these experiences have helped create Sujan's distinctive culinary style.
---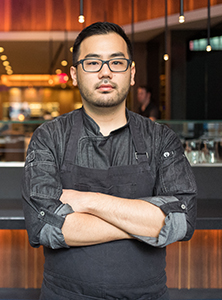 MICHAEL HAN
Ortzi
Michael Han is the Chef de Cuisine of Ortzi, bringing over a decade of experience working from high end hotels and several Michelin starred restaurants in New York and Chicago. He credits working for David Bouley and Shea Gallante as the chefs that greatly influenced his creativity and technical skills. Michael's most recent experience as Executive Sous Chef at A Voce Columbus will bring a great deal of knowledge of the standards of fine dining and attention to detail. After he had left he had traveled to Spain for several months where he fell in love with the culture and cuisine by backpacking his way around the country. When he returned back to New York he brought back his Spanish inspired cuisine and worked with Jose Garces to open Ortzi, a Basque-inspired restaurant located in the LUMA Hotel Times Square.
---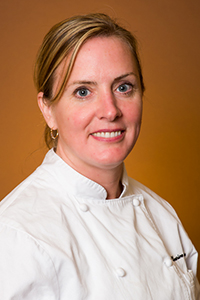 CATHERINE MEDRANO
The Regency Bar & Grill
You can catch Executive Chef Catherine Medrano at The Regency Bar & Grill inside Park Avenue's iconic Loews Regency New York Hotel. Here, Medrano oversees daily operations for the hotel's signature restaurant, home of the famed Power Breakfast, and In-Room Dining.
Chef Catherine began her culinary career at the esteemed Johnson & Wales University in Providence, Rhode Island in 1991. After graduating with honors, Chef Medrano participated in The Greenbrier Culinary Apprenticeship Program, which has trained some of the world's top chefs and culinary leaders, where she earned her American Culinary Federation (ACF) certification. Soon after, she was hired as Executive Chef of The Stanhope Park Hyatt in NYC followed by stints in Chicago and Jersey City.
Outside of the kitchen, she enjoys vacationing with her family in Key West and visiting her extended family in both Ireland and the Dominican Republic. She loves reading and keeps up on local politics and food and restaurant trends by following several food blogs and collecting local chef's cookbooks.
---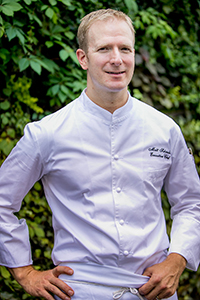 MATTHEW SCHINDLER
Charlie Palmer at The Knick
Matt Schindler brings a dedication to culinary creativity and artistry to his role as Executive Chef at Charlie Palmer at the Knick. A Seattle native, Matt developed his interest in cooking at his first job at the age of fifteen when he worked as a dishwasher. In the kitchen he discovered a strong sense of team and camaraderie, which led him to study culinary arts at the American Culinary Federation and attend classes at The Culinary Institute of America. His newly honed skills and talents brought him to New York City to open L'Atelier Joel Robuchon, where he was a part of the team honored with both a James Beard Award for Best New restaurant and a much-coveted Michelin star.
Soon after, Matt packed his knives and moved to England, where he was offered the position of Executive Chef at Seasons Restaurant at The Four Seasons Hotel in Hampshire. Matt's hard work paid off in spades, twice earning England's most elusive accolade, the AA Rosette.
Returning to New York in 2013, Matt worked for several esteemed operations, before becoming Executive Chef at Charlie Palmer at The Knick. Matt's experience in luxury, high-volume hotels, as well as his passion for creativity and seasonal ingredients, renders him the ideal leader for culinary program at The Knickerbocker Hotel.
---
INTO THE NIGHT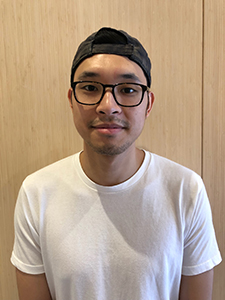 Eddie Zhen
The fun continues with Citi Taste of Tennis After Dark, a delectable dessert-tasting extravaganza from 9 to 11 pm. You'll enjoy New York's popular sweets, dessert drinks and, of course, the company of top tennis players who also have a sweet tooth.
The Little One's Eddie Zhen will be presenting cool Shaved Ice and Ice Cream Sandwiches.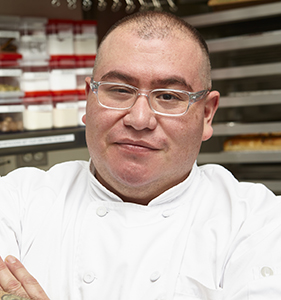 Doug Hernandez
Oceana Restaurant's Chef Doug Hernandez will be whipping up Chocolate Hazelnut Bar which is a mélange of White Chocolate Cremeux, Chocolate Meringue, Candied Hazelnuts, Candied Cocoa Nibs and Nutella powder.
Moffle Bar will be serving up Moffles available in three flavors: Unicorn (condensed milk & fruity pebbles), Dark Unicorn (chocolate sauce and cocoa pebbles), Rosé Hibiscus (rosé sabayon & hibiscus crystals).
Rebecca's Cake Pops will be joining the fun! Chef/owner Rebecca Clavecilla-Eng will be baking her famous Cake Pops. In 2012, she began baking for family, friends, and hasn't stopped! Find out why you can't have just one!
---
FOR MORE INFO

Citi, Jamaica Tourist Board, Oban, Amazing Thailand, Diplomatico Rum, Walkerswood Caribbean Food, Hampton Water, Red Stripe, Harney & Sons, ChefWorks, Volki Tennis are just a few of the major sponsors/partners. Wellness In The Schools (WITS), a non-profit partner, inspires healthy eating and fitness for kids in public schools. Citi Taste of Tennis kicks off at 7 pm, August 23rd at Cipriani (110 East 42nd Street), directly across from Grand Central.
For more information on Taste of Tennis, visit tasteoftennis.com.