ENTREPRENEUR'S CORNER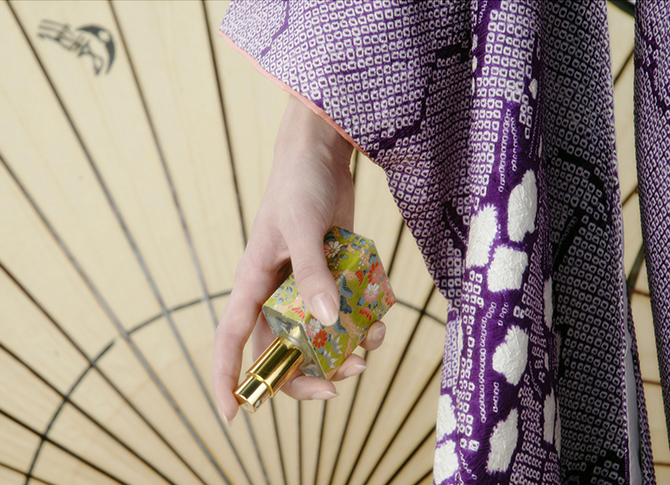 By Rebecca Ruiz
Perfume is more than a pretty scent in a gorgeous bottle. In fact, a fragrance can lift your spirits and take you on an endless journey, stirring up emotions from some of your fondest memories. You might say it's almost therapeutic: it will always strike the right note when applied.
Of course, we are inundated with mass market designer perfumes. But for those who are seeking something truly unique, take the subway to Brooklyn to find the Atelier of indie-perfumer artist and traveler, Maria McElroy. One will discover a new heady, virtual trip around the world. Synthesizing her love of blending colors and textures with her passion for scent, McElroy is most known as a pioneer in her field of indie fragrance.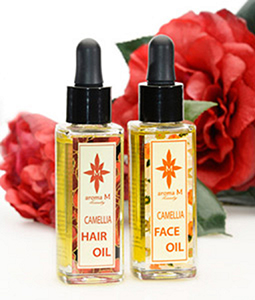 TRAVEL SCENTS
Maria's passion for expressing beauty began with her studies; she earned her MFA in painting from the San Francisco Art Institute in 1986 and continued her education in Australia, where she became a certified aroma therapist with Queensland Institute of Natural Science. In her spare time, she often created bespoke fragrances, wrapped in delicate silks and velvets, and gifting them to friends. It soon became apparent that this hobby would become her passion. This calling led Maria across the globe, to Japan, where she was able to delve further into and learn even more about the art of perfume-making. Inspired by her time in Japan, studying Kodo (the ancient art of fragrance), Ikebana (Japanese flower arrangement), Koto (the Japanese harp), and Zen Buddhism, her first perfume collection was born. Maria attributes her collection, Aroma M to her seven-year journey—rich in Japanese history, romance, and mystery.
years later, Aroma M continues to delight and is sold at top retailers. The fragrances are also popular additions to some of New York City's exclusive spas: Cornelia Spa at The Surrey and Shibui Spa at The Greenwich Hotel. She is also known for custom-blended scent products developed for clients including Sephora.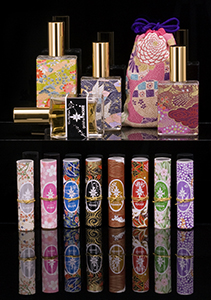 Aroma M line
LOVING NYC
Back in the busy city of New York, love found Maria when she met her now Japanese-born chef husband. The two now live in Brooklyn, where Maria continues her tradition of creating new place-based fragrances. At her Aroma M Atelier is where you'll find Maria's fragrance creations come to life. The showroom is open by appointment and consultations for bespoke perfume are also available. The Atelier offers a wide array of tantalizing aromas as well as the Aroma M Beauty Camellia Oil product line. Maria welcomes guests with a cup of matcha tea (she brews it herself) to make the journey a pleasant and relaxing one.
Apart from managing her perfume business, Maria has other creative ventures on the horizon. One such project is partnering with Slow Luxury (slow-luxury.com) a concept store which creates sustainable beauty and design goods body and home, as well as experiences and travel adventures to celebrate original and heritage materials. In partnership with founder Jade Dressler, Maria will create perfume and beauty products as well as designs and trips in partnership with Epic Road (epicroad.com), a specialist in transformative travel.
Maria's experience in place-based perfumes complements perfectly with Slow Luxury's travel packages. Her recent trips to Marrakech inspired her latest perfume recipe of Middle Eastern and African oils, launching soon under the Aroma M brand. This fragrance joins another new/ancient perfume gift set called Immortal Beloved: The World's First Goddess Perfume + Coloring Book (text and illustrations by Jade Dressler). The all-natural fragrance entwines the mystery of million-year-old amber resins with that of stunning Moroccan henna flower, drops of precious beeswax absolute, and tobacco flower. A shadow of labdanum and chypre are touched with traces of delicate lily of the valley and Madagascar vanilla. This fragrance is encased in a hand blown, gold filigree, Czechoslovakian-glass bottle and available at House of Cherry Bomb (houseofcherrybomb.com). The gift set (perfume and coloring book) will be available later this year at The Jade Dress Shop (thejadedressshop.com).
Fabulous Fragrance
What excites Maria most about the partnership is the chance to showcase fragrance in a new, exciting way and one-of-a-kind experience. Slow Luxury and Epic Road trips will give clients a unique insight into the world of fragrance, how to create their fragrance immersed in culture and travel. World travelers will now be able to see, touch smell and bring home the very essence of their journey. The first Bespoke Fragrance Adventure will take place in Marrakech, a place that is abundantly full of fabulous fragrances, glamour, and exotic, magical beauty.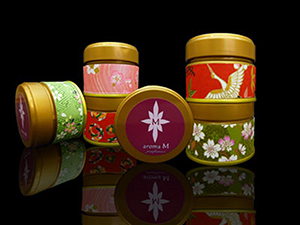 Tea group
Slow Luxury also appeals greatly to those looking for more sustainable and eco-friendly alternatives while traveling—from food to activities and hotels. Not only do travel and design activities positively impact the local communities by providing a source of income to the area, but the adventures also aim to solely celebrate and respectfully share in the culture, while giving travelers the opportunity to choose handmade, ethically produced products.
With more consumers seeking luxury products to reflect a sense of self, Maria McElroy's Aroma M Atelier is sure to please. After all, isn't luxury the chance to take a deep breath and escape—even for just a few moments—each day?
For more information on Aroma M Atelier, visit aromam.com.
---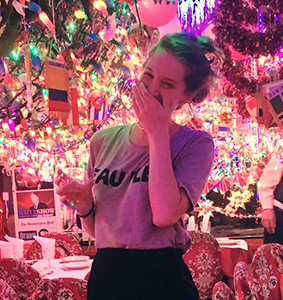 Rebecca Ruiz's passion for promoting eco-friendly and ethical products originates from time spent visiting Guatemala. The beautiful, handcrafted goods, made by the indigenous people, prompted her to learn more about how sustainable products and services can create positive environmental, social and economic impacts in industries and communities around the world. Rebecca lives in NYC and now works as a sustainability consultant for a wide-range of companies which aim to become greener.