AN EAST SIDE MASTERPIECE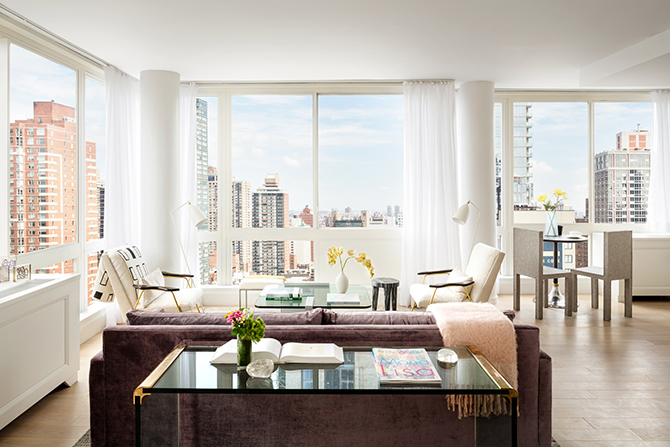 By Daniel J. Bollinger
Located in the Yorkville section of the Upper East Side is 389 East 89th Street, a 156 unit rental to condo conversion. Ben Shaoul of Magnum Real Estate Group has done an excellent job on this project. But it is Paris Forino's interior design that steals the show. This is a second project—her first being 50 Clinton Street on the Lower East Side.
The property offers one-to-three bedroom condos. They are all unique layouts on the podium level which encompasses floors three to six. Scenic city views start on the 8th floor and up. Floors 19-32 are four-unit floors, so all units are a corner with minimum double exposures, and their three bedrooms have three exposures.
The Upper East Side is iconic. Museums, art galleries, restaurants, and department stores encompass the UES. But the real beauty and charm is the local neighborhood feel that continues to thrive.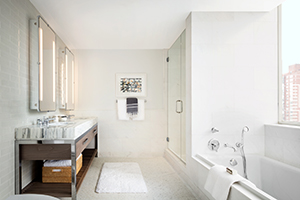 SOMETHING FOR EVERYONE
There are different layouts and sizes for the one- two-and-three bedrooms so explaining some particular details simply won't do. We can tell you that the residences have a common theme. One of which is a balance: the whole apartment is spatially proportional. There is a comfortable feel to each apartment. Paris Forino sums it up perfectly when she explains, "In designing the residences we created a place where residents could come home to and feel relaxed." She has succeeded greatly in her design.
The quality is imminent with Miele appliances in all kitchens, deep soaking tubs and large rain showers in the bathrooms all with Waterworks fixtures. In the bathrooms, there is custom-designed medicine cabinet by Paris herself that is beautiful. Every unit even comes with a washer/dryer that vents out. All closets come with well-built, sturdy insets.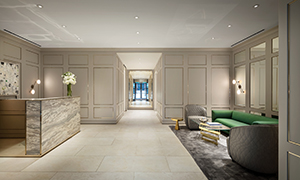 THE LITTLE EXTRAS
There are plenty of amenities at 389 as well. A 24/7 concierge, valet package and dry cleaning, fitness center, children's playroom, an indoor lounge and outdoor landscaped private garden suited for entertaining guests. The views from the rooftop offer a great 360 degree panorama of Manhattan.
In addition to great views, all of the residences provide lots of natural light as the marble throughout reflects the light coming through the windows. The price points offer great value. Anything with Paris Forino's name on it is a gem. Occupancy is slated for 2017 and sales have already begun. This is a building that will not be affected by any softening in the market. It is in the high velocity one-to-three million dollar market. To learn more about these residences, visit 389e89.com.