Arlington Place B&B: The Authentic "Crooklyn" Experience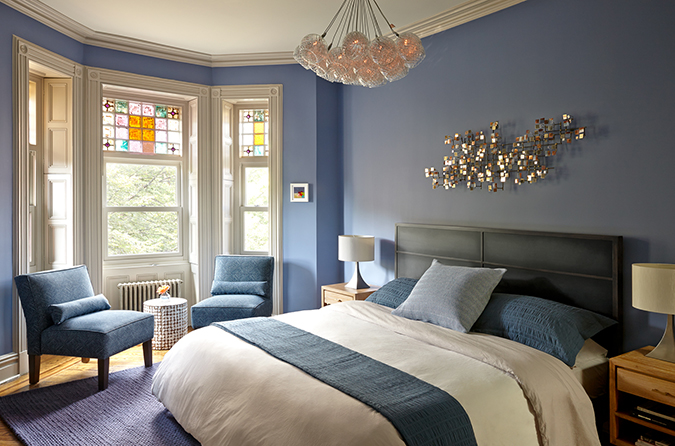 By Daniel J Bollinger Photos by Emily Gilbert
Arlington Place Bed & Breakfast is located in Brooklyn at Arlington Place. It is a definitive "Crooklyn" experience because Spike Lee filmed a major portion of his 1994 movie Crooklyn in this very house. It has stayed true to its history by still having most of the original design details from that period in time intact, with the exception of one wall. If you are interested in experiencing what the current global vibe of Brooklyn being the most popular borough in the world right now - then Arlington Place B&B offers a very "toe in the water" experience of not only true Brooklyn, but BedStuy Brooklyn. Located in the eastern section of Bed Stuy close to transportation links and some great restaurants book a stay today and enjoy a few days in my own Beloved Brooklyn.
Arlington Place was designed and built in approximately 1887 by the versatile Victorian architect George Pool Chappell, who was one of a dozen or so amazingly talented and prolific architects that defined the areas that are now referred to as "Brownstone Brooklyn". Many of the homes he built are now landmarked or earmarked for such award, including 7 Arlington Place, which he built in the Renaissance Revival style. After the owners purchased this rare gem, they realized that they needed to respect its original details and restore it to its natural beauty. They have honored both the past and present, and have fused its spectacular bones with a soft modern, eco-friendly touch that the owners call "liberated Victorian."
The design details of this time are classic and represented so well at 7 Arlington Place. The wood that adorns this B&B from the staircase, the wainscoating, the mantles, to the pocket doors is gorgeous. You cannot get wood like this anymore. Back in the 1800's they felled trees anywhere from 30 to 300 years old. Our current timber production processes trees only after a few years. The detailing in this wood from the ogees to the corner leaf detail on the door trim is an example how "they don't make things like they used to". The brass hardware accompanying the doors with their intricate designs not only on the door plates but even the hinges is beautiful. The stained glass in the recessed bay windows, the original China Hutch, and the coffered ceilings create a time past atmosphere. The mantles are notable: original tiles with foxes, hunting dogs, and similar themes. The richness of the colors of the tiles and the ornate corner details of the hearth. On one mantle it reads, "The Canty Hearth where Cronies Meet". It is a quote from the Scottish poet of that time Hew Ainslie.
The rooms are cozy and each has a bathroom with period design elements as well. From the original clawfoot tubs to the border tiles if you've never experienced the rich detail of a Brooklyn Brownstone this is the place to do it. Since it is a Bed and Breakfast we do have some very modern features that fuse old and new together very well. The kitchen is an open layout leading to a beautiful backyard. The basement has been updated into a bar/lounge but in keeping with the design. One wall was removed to open up the kitchen area but the wood from this wall was used in the custom design of the bar in the basement thereby matching in design and feel. The exposed original beams in both the kitchen and basement combined with the original brick structural arches in the basement make for a great blend of these new features and the original detailing.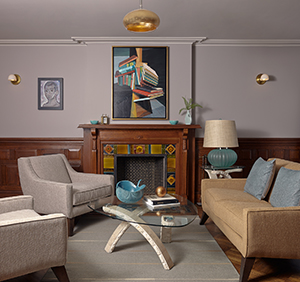 Arlington Place features many amenities as well including: a made to order organic breakfast, coffee, tea and juice, as well as a variety of pastries and fruits. They source some of the ingredients from their very own rooftop garden and/or local establishments. There is a split system air conditioner so you can have your room as hot or cold as you wish. The Parlor and formal dining room is available for quiet sitting daily. Coffee, tea, water and snacks are always available. The owners sometimes host an afternoon event or piano performance for the guests' entertainment. There is cable tv and free wi-fi in each bedroom and the house has a library with books for people of all ages including children.
There are a number of restaurants in the immediate area as well. Some that I would recommend are Ali's Trinidad Roti Shop ~ you're in Bed-Stuy, historically a highly Caribbean neighborhood and Ali's is a well known spot. Bedford Hall ~ a well preserved Prohibition era spot with live jazz during weekend brunch. Dough ~ Bed-Stuy donuts, don't say I didn't let you know. And only in NY: David's Brisket House ~ a Jewish deli run by Muslims. Dynaco ~ they have a rotating pie and cake menu and it's cash only. These are just a few of the great places in the area.
Arlington Place can also be rented out for parties and events. The kitchen, backyard, and basement bar are all equally accessible with two staircases leading to each space. This layout makes for a great social gathering or event. You can learn all about what Arlington Place B&B offers here: arlingtonplacebnb.com/about
Arlington Place is a piece of history spanning hundreds of years. A landmark worthy brownstone with most original detailing built over a hundred years ago. Spike Lee's set for much of his movie Crooklyn filmed in 1994. And now you can experience all of this history too. For someone visiting NYC I would definitely rent a room for at least one or two nights here so you can say you lived the Brooklyn experience. Your City, Your Life.