Montreal Jazz Fest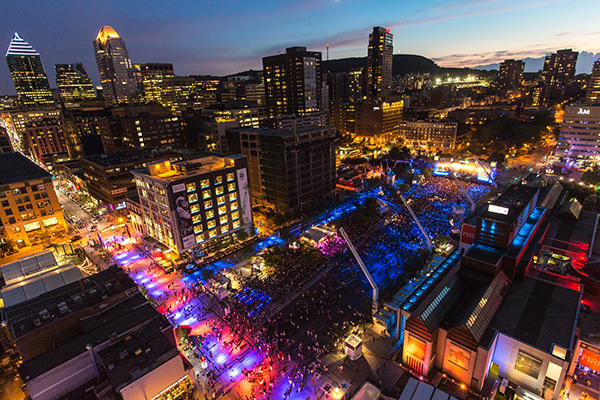 By Jodie Jacobs
Photo provided by Festival International de Jazz de Montreal and Frédérique Ménard-Aubin
You feel the electricity as you walk up Rue Sainte-Catherine. Crowds are coming from all directions. They are heading towards the main outdoor stage on the blocked off Place Des Festivals along Rue Jeanne-Mance. Diana Krall, reknown jazz vocalist and B.C. native who normally commands from $80 to $100 a ticket is performing outdoors. Outdoors here, the Festival International de Jazz de Montréal, means free.
Headliners typically perform on one of the Jazz Festival's 15 indoor stages but Krall did her still-talked-about concert June 29, 2014 as a thank you to fans on the 20th anniversary of her appearances at the Montreal International Jazz Festival.
Montreal's famed Jazz Festival has been bringing such luminaries as B.B. King, Ray Charles, Tony Bennet, Al Jarreau, Pat Metheny and Charlie Haden to this cosmopolitan town for more than 30 years.
Well, town hardly describes Montreal, a city of nearly two million (metropolitan area is about four million) people who love food, festivals and fashion. Add French to the list which is the native language. However, English is understood and spoken.
Walking through the Jazz Festival at night it may seem as if all of Montreal has turned out but listening to the babble you realize jazz fans have descended on the city from all over the world.
By the numbers
Now entering its 36th season, the festival draws more than two million music lovers to hundreds of concerts on 10 outdoor stages and 15 indoor venues from noon to midnight during 10 days, according to the Montreal Jazz Festival statistics. The 2015 dates are June 26 through July 5.
Laurent Saulnier, Festival International de Jazz de Montréal programming vice-president points out that the event has grown and evolved over the years "The first one was quite small if you compare it to what it has become. At the first festival, there was something like 12 concerts. Now there is almost 300!" Saulnier said.
And those concerts have expanded from pure jazz to a range that covers blues, hip-hop, soul and other forms. "Now it is, according to the Guinness Book of world records, the largest jazz festival in the world, he said.
So how would a visitor manage?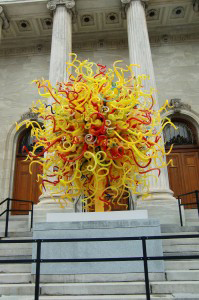 Start by checking the full list of entertainers and snag tickets to your most wanted shows.
Some of the headliners appearing in 2015 are blues legends Taj Mahal, John Mayall, James Cotton appearing together June 27, old and new timers Huey Lewis and the News, July 1, and vocalist Bobby Bazini and guest keyboardist Booker T. Jones, July 2, all at the Salle Wilfrid-Pelletier in the "Place des Arts," the festival's main, multi-stage venue.
Also look for Dee Dee Bridgewater with Irvin Mayfield and the New Orleans Jazz Orchestra at the Théâtre Maisonneuve, July 3, and the "Battle of the Bands" with the Tommy Dorsey Orchestra against the Jimmy Dorsey Orchestra at Maison Symphonique de Montréal, July 4.
Where to stay, eat and what to see
Best plan is to stay within festival walking distance because you will want to go during the day for some music and return at night for more sights and sounds. The St. Martin is a new boutique hotel a few blocks from the festival on the Maisonneuve Boulevard West. Yes, the St. Martin name is a deliberate reference to the Caribbean's vacation island.
www.lestmartinmontreal.com/default-en.html
As to restaurants, you can hardly go wrong in this town of delightful cafés. They dot the streets leading down from the Place Des Festivals to the Montreal Fine Art Museum on Sherbrooke Street. But here are some suggestions.
At the festival go to Brasserie T on Rue Jeanne-Mance for gourmet casual fare and outdoor seating along the Place Des Festivals. It is operated by Toque, its famed upscale sister restaurant.
www.brasserie-t.com
On Ste-Catherine Street are Bistro Accords and Café du Nouveau Monde, two casual, fun places.
www.tourisme-montreal.org/Cuisine/Restaurants/cafe-du-nouveau-monde
www.tourisme-montreal.org/Cuisine/Restaurants/accords-bistro-montreal
Also near the festival is the upscale Bouillon Bilk a pricy, newly redone, "in" place.
www.bouillonbilk.com
The Jazz Festival lies in the heart of downtown Montreal but if you have a free day, definitely take a taxi down to Old Montreal and the St. Lawrence River waterfront.
www.vieux.montreal.qc.ca/mus_attr/pdf/attr_09a.pdf
www.vieux.montreal.qc.ca/eng/accueila.htm
For half a free day walk Montreal's boulevards and charming side streets to the very doable Montreal Museum of Fine Art.
www.mbam.qc.ca/en
"You have to stay in Montreal for a couple of days," said Saulnier.
"You have to go to see some very comfortable indoor concert. And there is a lot: from Wayne Shorter to Snarky Puppy, badbadnotgood with Ghostface Killah, Dee Dee Bridgewater and Erykah Badu name a few," he said.
And he added, "But you also have to feel the outdoor site, completely free, where you can smell the music of the city. There is a lot to see, a lot to hear, a lot of peaceful people enjoying summer in downtown Montreal. To be honest: it's one of the best feelings in the world."
For program tickets and more information visit Montreal Jazz Festival
www.montrealjazzfest.com/default-en.aspx